Mean Streets of Compton
January 9, 2013
Mean Streets of Compton
POW POW POW…. I look behind me quickly and see my parents bleeding on the ground. "How could you do this" I yell to the bloods. That was 10 years ago to this day that my parents were shot and killed. They were killed because they wore blue in the Bloods area. I have a brother Stefan, but me and him split up 10 years ago. We both thought we would be better off by ourselves in life. Oh, my name is Shaq Muhammad by the way and I am 16 years old. I am an orphan. I am 6ft 1 in and weigh 195 pounds. Today, I am wandering the streets of Compton, California looking for a place to sleep tonight. Compton is well known for gang activity, drugs, crimes and huge number of deaths due to gang violence. It is considered one of the worst places to live in all of America.

A small apartment with a fairly big doorstep is right in front of me as I walk along. I decide here is where I will sleep. I'm hungry now so I start looking for food, but know I don't have any money so I am outta luck. I spot a trash bin about 50 yards down the street on the right side and go and look for thrown out food in there. A half-eaten Snickers bar is in the wastebasket and I grab that and put it in my mouth. I move on through the streets and back to the hood. A few gangsters that I have known since I was little are staring at me as I walk by. I mutter "hey." The small bulky man with a tattoo of a skull on his arm says to me. "Hey bra I heard you and Stefan are done with each other man. It's been like 10 years dude. Its aight man, I'll take care of you in fact, you can hang with us brother."
"No I'm not your bra and I'm not hanging with you or your posy; I'm by myself and that's how it's gonna be."

The sounds of gun shots and police car sirens roll through the night as I walk back to the apartment doorstep. I am like a lion laying silently in the grass as the sounds of the night carry me away to a deep sleep. I wake to POW POW POW and look up from the concrete I rested my head on. A man wearing blue is bleeding at an immense rate as another man with a dark mask on and wearing a red shirt sprints away. I can't do anything to help this man otherwise; I could be considered a Crip and be shot. I feel terrible as his life will come to an end in a matter of minutes. I walk away calmly up the street filled with spent gun shells on the ground and a pistol on the porch of a house.

Basketball courts are very important in Compton. It seems as if every two blocks there is a park with a hoop and playground equipment. There is no other way out of Compton, you are either a basketball player or involved in gangs and drugs. I notice a park with a hoop as I walk by. Painted lines all over the court, and I know from watching my Lakers that these are the end lines. "Hey kid come here." Startled I keep walking as I believe it is probably another Blood. Hey, where are you going?" This time I turn around and look for the person that is calling for me. A policeman is waving me over so I walk over to the window he has rolled down. He is very big probably around 280 pounds and has a long dark beard. "What you up to" he says to me. "I'm not causing harm officer, I was just walking around. "Hey that's cool I noticed your basketball necklace" referring to my necklace, I found in the street a couple of weeks ago. I'm involved in getting kids in sports and wondered if you would like to play, I got a ball in the back." "Sure but I have never played before." "That's fine, I will give you the ball and you can keep it, have fun." For once in my life I feel safe and feel like I met a friend today, it's just me and the hoop.

I shoot for what seems like two hours but I don't know for sure and then take the ball with me wherever I go. I can't believe it but I actually like the game and am not very bad either.

It is getting dark now and I still have yet to figure out where I am going to sleep tonight. I walk back carrying the ball in my hands back to the hood I know and see many gangsters smoking marijuana and drinking. ''Hey man you want a puff'' a tall skinny man with a Los Angeles Lakers hat shouts to me. I don't say anything and keep walking. Hey, dude you want something. "No", I say, as I set my ball down next to me and use it as a headrest. They keep talking to each other as my eyes close. It's drizzling now and all I can hope for is not a big thunderstorm. The day comes to a close.

My eyes open slowly and I yawn loudly as my basketball is still under my head. I get up slowly and begin to stretch for no particular reason. The basketball court I know now is only two blocks away, and I dribble the ball on the pavement on my way there. Gangsters light up their marijuana as I walk right on by and pay no attention to them. I arrive at the court and start shooting some three pointers. To my surprise I hear behind me "hey kid come here." The policeman I had met the day before was here again calling me over to his car. "Hey ,what's up" I say to him? "I had to stop by and introduce myself young man the officer says to me. My name is Michael Jones and I saw the Compton Cougars practicing at the Coliseum a minute ago. I am good friends with the coach Scott Kansas, and I told him you would stop by and show him your stuff, they need another player. What's your name son?" "Oh yeah my name is Shaq." "Hop in I will take you over there."

We arrive at the Coliseum a few minutes after the talk and Michael takes me in. We walk in together and make our way over to coach Kansas. ''Hey Scott this is Shaq.'' Me and coach Kansas shake hands and both say nice to meet you. Michael strolls off the court and sits on the bleachers on the other side. Coach Kansas introduces me to the team and we begin with a 5 on 5 scrimmage. I have never played against anyone before so I am a little nervous. They tell me to go to shooting guard and I know from watching the Lakers my favorite player Kobe Bryant plays there. A small skinny white kid with short red hair dribbles the ball up for the opposing team. I am guarding him and I quickly reach in and pick the ball free. The ball rolls to half court and it's a race after it. I beat him to it and finish with a thunderous windmill dunk that leaves coach Kansas in awe. Michael is cheering wildly for me.

The scrimmage lasted only about a half-hour longer and I was exhausted walking off the court to talk to Michael about my performance. He wrote down my game stats on a sheet of paper and handed it to me. Twenty-eight points, twelve rebounds, six assists, and two steals. I topped it off with two thunderous dunks. Coach Kansas comes up to both of us and says to me "Shaq that was a phenomenal performance and I want you to be a part of this team. I also heard from Michael that you don't have anywhere to live that you are homeless. I would like for you to live with me at my house for the season and I will try and enroll you at Carney High School here in Compton. What do you say?" I am stunned with happiness and tears roll down my face as I accept his offer. I have never lived in a home and finally have someone who cares about me. "Michael, thank you so much" I say to him overwhelmed. "You are very welcome Shaq."

I rode along with Coach Kansas to his house about twenty minutes away. We pulled into the driveway and I could not believe what I saw. ''Is this yours'' I asked him stunned. ''Yes it is Shaq'' he replied. This was the biggest house I had ever seen. He took me inside and showed me around the house. He had a pool in his back yard and even an indoor basketball court. ''You have got to be kidding me Coach.'' Had my life changed forever in these last couple hours. I no longer had to watch out for my life everyday on the streets or look for a place to sleep. I had it all here, everything I could ever imagine was in this house.

The regular season was already over when I was asked to play so I knew all we had left was the playoffs. Coach Kansas told me the Compton Cougars had never been past the first round of the playoffs and I sure as hell wanted to get farther than that. Our first playoff game was this Friday against the rival Helton Thunder. They finished the league play with the best record.

Friday finally arrived and coach Kansas was giving us the locker room speech. ''Play hard and play fast.''All you can do is give it your all and the scoreboard will have you guys on top. Now let's go get them. We never looked back from there on and we made it all the way to the State Championship against the Axton Pilots. I averaged thirty- one points a game during the playoffs and I sure wanted more in the championship. The score was 98-98 with two seconds to go. We inbounded the ball to me and I launched a thirty- footer for the win. "it's good" screams the announcer the Compton Cougars have won the State Championship! Fans stormed the court as we kissed the trophy. We had won and I couldn't believe it. I and Coach Kansas road home talking about the game the whole way. He was as proud of me as was everyone else. Coach Kansas slams on the brakes abruptly. We were driving through the streets of Compton when we heard POW POW POW and Coach Kansas looks at me. Blood splattered the windows, brain matter was all over the car, and Shaq Muhammad was dead. Even when you feel at the top of the world the streets of Compton are truly cruel. Shaq Muhammad was truly DEAD.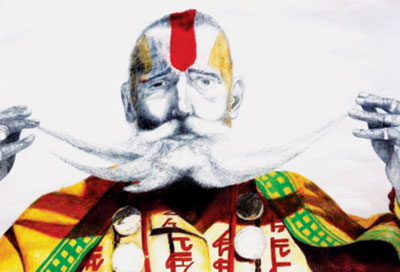 © Luke K., New Orleans, LA