Huntress 2
April 19, 2012
We led the senior down the locker filled hallway to the designated classroom. I waited as Relil twisted the knob to the hard oak door. The class was a freshman global history room. There were two posters behind the teacher's desk. One was a map of India with the low areas colored blue and the high colored orange. The other was a simple writing of "World peace can be achieved through effort."
"Hello, Mac." Relil puts out in he ackward silence. "I'm Ross and this is Jane, my sister." Mac smiled quietly at each of us, but he seemed distant and overly polite. "So, how is your school on terms of cleanliness?" I laughed at Relil's bluntness and old English wording.
"It's pretty good, about what you would expect from any public high school. There's clean tables and healthy lunches."
I nearly laughed at his discomfort at answering the question. "Alright, Mac. Is there any questions or information you can give us?"
He did not want to answer. His green eyes were shaded and flicked to the door often. I giggled at his guy-speak. The high school boy was practically saying: I want to leave. I want to leave. I giggled. "No. Elaine can give you more information. I usually eat in the library or outside, which are both equally as clean as the cafeteria you've already seen. I'm sure Elaine would be happy to show you either."

"Alright, thanks. Go on back to class." Relil and I accompanied Mac back down the white washed hall, but my mind was more on the pale reflections I saw glinting back at me from the spotless windows. Who were these vampire like people? They sure weren't us.
Jane Finnley was a plain Jane vamped up to a beautiful brown eyed woman. I felt out of place in a soft outer shell when I had been living a strict, defined life. Jane was someone you expected to be babysitting or living a fictional life with Prince Charming. I was the girl you knew as a leader and a hunter. I smiled as I realized just how much I was the Huntress of the Stripe. Ross Finnley was just a toned down version of Relil, but it was really toned down a lot. He had dark hair and gray green eyes, hard biceps and strong jawline, but kind and soft facial features. It would be wrong on any other man. I knew he was feeling just as weird in his disguise.
"Ready?" I asked Relil.
"As I'll ever be," was his cliche response. I huffed in annoyance, but smirked anyways.
"Come on. Let's go tell a half-shifter her possibly fatal destiny."
"You're in an awesome mood." Prince Relil threw out sarcastically.
"Come on, stupid." We walked over to the bantering principal and the I'm-pretending-to-be-understanding student. I flashed Mr. Zimbabwe a smile Nick would have classified as stunning, charming and cunningly dangerous. Of course, only my long time best friend would know that, because all the stuttering principal would see is a beautiful smile. "Hello again! My we speak with Elaine now? That is your name, right?"
Elaine nodded mutely, but I could tell she was struggling to hold the smile curving her thin lips. Mr. Zimbabwe forced a polite smile. "Of course."
I took a deep breath as Relil nearly went cross eyed from altering the man's thoughts. He groaned slightly, a mere whisper of a noise, and the grey eyes of my old principal went more blank than a freshman after a year of school. "You know, I have a lot of paperwork to do, if you would escort Elaine to her Year 4 Latin class, I would be very grateful." I suddenly realized why it took Relil so long and why the sentence had a specific Old English lilt to it. Instead of just giving Mr. Zimbabwe an idea, he had to formulate a sentence and force the principal to speak and believe the words.

"Perfect! Thank you for your cooperation. We'll be sure to give you a full report, all of which I'm sure will be excellent. Your school seems in great order." We grinned, said our goodbyes and turned down the hall toward the empty classroom, but once out of Mr. Zimbabwe's sight, passed it and headed outside.
Elaine was bursting with questions, I could tell, but she bounced up and down until we were a safe distance outside. Then she burst. I laughed at her antics, "Hi, Elaine. Yes, we're back. Yes, we're Shifters and you're the only on who can see us right now."
"Wow, that's cool! The Shifter part, I mean."
"Well, about that, um, you know how I can Shift?"
"Yeah?"
I weakly smiled at Elaine. "Well, uh, you can too." She stared, contemplating whether to believe me or to call me utterly crazy.
"So, you're saying I can turn into an animal?"
The conversation was getting weirder by the moment. "Yes. I'm pretty sure."
"Okay, I'll go with this for a minute. Why are you telling me now? Shouldn't I find out on my own?"
"Well, about that... Relil has an explanation planned out so..."
"Um, right." I chuckled as the royal prince stuttered slightly. He looked minimally surprised at having the spotlight turned on him. "Okay. So, I guess I'll start with history." He gazed around at the surrounding oak and walnut trees, glistening with the remaining dew from the morning. "My name is Relil Marklei, and I am the Crown Prince of Marklei Court. My brother, Rill" Elaine's eyes widened slightly, "and I had awaited the time of the prophecy since we could read." As Relil went on to tell about his history, and mine, I added comments here and there about my point of view in the beginning, but I gradually drifted away from the two.
I wandered along the groves, sauntering from school property to public grounds. The poor school: two students gone missing - what would they ever think? Oh well, I guess I would have to move the Hunt away, make new friends and leave everything behind again. I sighed, running my hands through the trees' shockingly red leaves. I felt the pain their edges created and winced at every prick it made in my skin.
The rough trunks seemed to bend towards my very being, inhaling its scent and breathing out my memories. A small child sitting in the park, laughing as the grass around her becomes greener and longer. A fully grown woman in the twentieth century, fighting for the planet at a rally, her face glowing with exhilaration. A teenager smiling at an unknown blue-eyed boy, ready to explore his history.

I pulled my mind away from the memories, away from the hurt. Every time I was reincarnated into a new body, I, stupidly, selfishly, fell in love. When I fell in love, my heart was always broken and I'd end up doing something stupid out of grief. Then, when my love's eyes were upon me, I ended up dying. Story of my life, literally. Or lives, I guess.

There were good memories, too. Laughter echoing of the walls of a sticky cave, the hot firelight dancing on the curved walls. Four friends sat around the red, orange and white flames. I remembered them from a past life. Their names were very unconventional during that time: Chelsea, Lauren, and Kim. I completed the circle. At the time, there was a very limited amount of Shifters, and all of us knew about the race, although Chelsea was not an actual Shifter. Lauren, Kim and I began the Order of the Stripe, and Chelsea came up for many of the initial rites, rituals and initiatives. I smiled thinking about our antics.

There was another memory of a mother smiling at me, a blond haired baby. My fine hair slowly became raven black as she watched. The mother had been blessed to understand the gift, to appreciate it. Some weren't as lucky.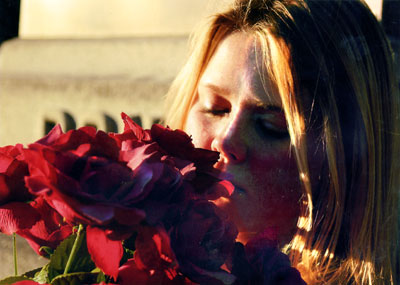 © Jon G., Bethesda, MD