My First Day of School
January 11, 2012
My first high school day was an adventure for me. It started off by me waking up in the morning hours. It was approximately 6:30 in the morning, when I woke up for my first day of high school. I went upstairs into the bathroom and took a shower. Then, I got out of the shower and put on some new clothes my mother bought me for school this year. After that, I made my journey downstairs to the kitchen where I sat and ate a bowl of cereal. After, I did all of this it was about time to leave for my first day of high school. I left.

I continued this adventure down the sidewalk all the way to the high school and I thought to myself, "This is going to be a good day." It was very nice and sunny outside too. I traveled along and finally made it to the Meridian high school doors.

It took me a second to walk though the big doors, but I took a deep breath and walked into the high school. I went on walking in the high school and started to figure out where all of my classes were at. Everyone in the hallways was looking at me as I walked past them. After, I figured out where all my classes were I went to my locker. Then, after I got all of my things out of my locker, I went to class because the bell had rung.

My first class was physical science; it was an interesting class, so that's why I took that instead of biology. I went into the classroom and sat down. The teacher talked about class rules and other stuff, which I don't remember. Then, class was dismissed and I continue this adventure to my second hour, third hour, fourth hour, fifth hour, sixth hour, and finally seventh hour. We had no lunch on the first day of school because it was a half day. All of my teachers talked about the class rules all school day, so it was boring.

After school was dismissed from seventh hour, I went home to lie on my couch and fall asleep.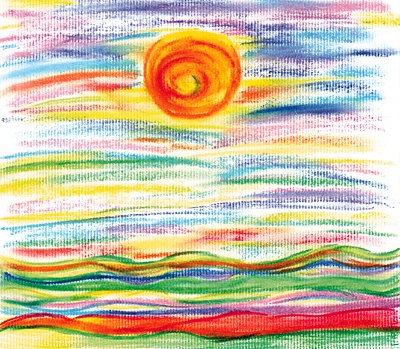 © Jennifer W., Saint Albans, WV