Ablanca
October 7, 2011
So, this is how it ends. Fighting my way to power, destroying homes and countries, and now it's come back to me. My name is Balthazar and I am 19 years old and grew up in a village known as Varduck. I live with my mother and a younger sibling brother. My father was taken from us by our cruel, heartless king, Dzarr, and his wife Belle. We are a small, poor, lonely family without any loved ones besides ourselves and the rats that infest our home. My mother's name is Elsa and my brother's name is Ezra.
"Balthazar, will you run into the village and fetch some bread for tonight's meal? asked Mom.
I leave without any hesitation, happy to be out, in the world, enjoying the village life. I don't get to enjoy life away from home much. I walk past the village blacksmith. He never seems to be happy but just keeps flailing away at the same blade every day, as though he's preparing for something… But what?
I walk into the village store and grab a small loaf of bread. It's slightly stale. The man at the counter has been watching me, as though I'm up to no good. I make my way up to the counter and hand the man working the gold and buy the bread.
"Oi, your Elsa's son aren't you?"
He seemed tense, his hands were shaking vigorously and I could hear his heart about to erupt in his chest.
"Yes, why do you ask?"
Just then I hear something in the distance; it sound's something like a herd of wild boar coming towards the shop. I turn around and hear a shriek, a painful shriek. I walk out of the store and all I am able to see is a pack of horses before it goes black.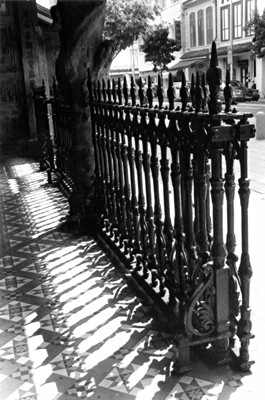 © Gretchen L., Edina, MN