Lost At The Beach
June 1, 2011
As the fast, blue airplane cruised down to the ground, Amanda and Ariel gazed out the window. They couldn't wait to see the amazing Florida beaches. Another thing they were looking forward to were the cute shops along the brick streets. It was their first trip together since they were teenagers. Now, Amanda was twenty one and Ariel was twenty six. Even though the sisters were five years apart, they looked like twins. They both had the same sparkling brown eyes, pretty brown hair, and tanned skin. Amanda's nose was a little bigger than Ariel's but that was basically the only difference. Their teeth were like looking at straight rows of snowflakes. They had smiles that lit up the whole world. In fact, they were smiling right now. They had finally landed in Florida.

Amanda felt at home as soon as she walked out of the airplane. The cool breeze felt amazing on the hot summer day. This place is perfect; I can't believe I've never been here, Amanda thought to herself.

"Here we are!!!!" Amanda shouted happily as she glanced around the town of Navarre Beach. There was so much stuff to do in Navarre, swim in the clear ocean, lay on the sugar sand beaches, and go shopping in the town's stores. Amanda scurried across the grass and into the airport. Ariel was right behind her. They grabbed their luggage and dashed away to a taxi.

"Where to?" asked the taxi man.

"Over the bridge and to the beach!" Amanda and Ariel shouted together. Soon they were crossing the long Santa Rosa Sound Bridge to get to the beach.

"That's our condo building, right there!! Yeah, the Caribbean Resort! Woaahhh look at how tall it is, Ariel!!" Amanda shouted.

"Wow!!!! Hey thanks for the ride!!!" Ariel said to the taxi man as she paid him. Amanda and Ariel jumped out of the cab with their luggage and sprinted to the elevator of the Caribbean Resort.

Up in their condo, Amanda and Ariel changed into their swimsuits and started heading down to the beach. They were lucky that the Caribbean Resort was right on the beach. As soon as they got down to the pool, they saw the ocean and screamed loudly. Ariel's feet left the ground as she sprinted to the ocean. Her feet moved so quick the sand blew in Amanda's face. Amanda took off after her. Ariel pushed Amanda into the warm ocean water. Amanda laughed and walked out of the water and down the beach.

After their walk on the beach, Amanda and Ariel went to the restaurant down the street from the Caribbean Resort called Sharky's. After eating a wonderful meal, Amanda walked outside to look at the beach. She started looking for seashells. She wanted to get away, away from people shouting, away from her sister, away from the crowded spaces inside Sharky's. As she walked, she noticed that there weren't any houses or buildings around. Hm, I wonder where I am, Amanda thought to herself. Well, I guess I can keep looking and find my way back later. Minutes later, Amanda found a perfect, pointy shark's tooth. It was so shiny and black it was like looking at onyx. "Yes!!!!" Amanda screamed happily. She finally found a shark's tooth! She looked around the beach to see where Ariel was, but she was the only one there. Oh no! I'm all alone on a beach I've never been to before. And I don't even know which way I came from. I'm already scared! Amanda screamed in her head. There was no roads or people or buildings, just forest and trees. Tears streamed down Amanda's face. She kept walking with no clue where she was. After what seemed like hours, she turned around and walked the other way. The sun was like looking at very bright flashlight after you just wake up. The sand was like being burned by pools of boiling water. The waves lapped gently onto the shore. The forest's trees were so tall that they intimidated Amanda. "Ahhhh!! Help!!" Amanda screamed as loud as she could. Tears streamed down her face like pouring rain. She kept walking even though it was steaming hot and the sun was beating on her back.

Soon, people started walking past her. Buildings appeared along the coastline. Now, with hope, Amanda sprinted forward, jumping with joy, screaming with happiness, and looking for the Caribbean Resort. As soon as she spotted the Caribbean Resort, she ran to the elevator and took it up to the fourth floor. As soon as the metal elevator doors opened, she sprinted down the hallway to room 401. Ariel was standing outside the red door, fussing with her keys. "ARIEL!!!" Amanda yelled.

"Amanda!! Where have you been?? You should have never gone far away from the restaurant! This is what always happens!! How immature and irresponsible!" Ariel screeched unhappily as she gave Amanda one of her why-on-Earth-would-you-do-that looks.

"I know, I'm sorry that I'm so irresponsible," Amanda told her sister.

"I'm just glad that you're safe, I was worried about you," Ariel said kindly as she pulled Amanda into a hug.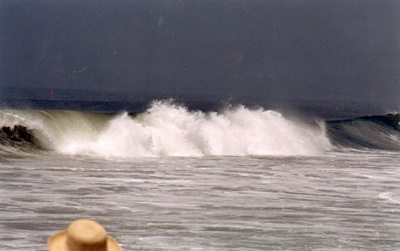 © Laurence S., Los Angeles, CA