The One who got Away
March 30, 2011
Darcey Banks walked along the river with her dog, Sonny. Darcey had just gotten Sonny for her Thirteenth birthday last week and was super happy because she had always wanted a dog. Sonny was a miniature beagle and was extremely hyper and happy all the time.

Darcey herself wasn't quite as happy as Sonny all the time, She had just had to deal with her parents recent divorce and deciding where to live wasn't as easy as she'd hoped. She had finally decided to live with her Mother, Jodi in the woods of Fairbank, Iowa. They had decided to move here a few days after the divorce when things were really the hardest. Darcey's father had decided to stay in Richmond, Virginia where his mother and stepfather lived.

She was now enrolling to Franklin Memorial Junior High, a public middle school much different from where she was before. The classroom were bigger, There were more kids, Everything was big compared to her old private school.

The first day was probably the toughest of it all. The kids didn't accept her and, she had to eat alone at lunch. The very worst part was when Jennifer, The most popular girl in school started picking on her and telling her she should just go back to Virginia and that everyone would be so much happier if she was gone. She went home and told her mother what Jennifer had said to her and she called the school right away. The next day things were much better. In spanish Mrs.Rodrigez assigned partners and she was put with Penny, another girl quieter than Darcey, that she had never noticed before. Penny turned out to have a lot in common with Darcey her parents had been through a divorce a few years ago and she had just gotten a boxer for christmas last year. Penny was really pretty but so shy that no one bothered with her anymore.

The next few weeks were a big sleepover to Penny and Darcey. On Monday,Wednesday,and Friday Penny went to Darcey's house after school and Tuesday, and Thursday Darcey went to Penny's mom's apartment. Over time Penny started to change and one day she didn't come to school, she called her mom and she hadn't seen her. The day went on and no one ever saw her, again.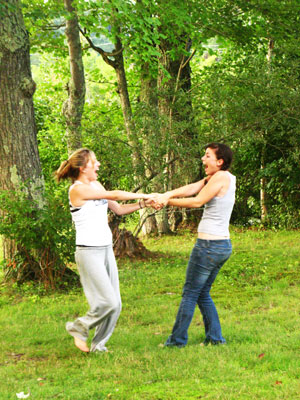 © Chantal C., Falls Church, VA