Beneath The Ice
January 29, 2011
I feel the ice beneath me crack, a sound cutting like a chainsaw, and I freeze. My best friend, Cailey, and my boyfriend, Chad, hears it too, and their heads snap toward me. All conversation is ceased, and the silence hangs in the air like a melting icicle. The terrified looks on their faces show they heard the crack. It was too loud for them not to.
"Chad," the panic is clear in my voice, and the frightened call rings out in the still February air. I try remaining as still as possible, trying not to shift my weight.
I hear Chad's calm but tense voice, trying to give me directions, but it's drowned out by a deafening crack, and then all I hear is a whoosh and then a splash. Somewhere in those seconds, I heard Cailey's scream, but then I can't remember if I screamed either. Cold enclosed around me like a blanket. I desperately clawed for the edges of the ice, but I was already sinking too fast. I fumbled with the zipper on my jacket, and ripped it off, but it still wasn't enough. I reached down at my ice skates, trying to untie them with my shaking hands, and I was able to yank them off, and they sunk towards the bottom of the lake. I shot upward, my lungs exploding, my hands reaching upward towards air and warmth and Chad...
Thunk. My hands smack ice. I pound on it with my fists, trying to break through, but with no success. The ice stays hard, cold, and unforgiving. I scream, letting a series of bubbles fly up towards the ice, never to really surface. The freezing water finally paralyzes me, seeming to freeze me in place, and I feel myself descending. I was done. I had no air left, and I drifted, waiting for death to close its arms around me.
Somewhere in the distance I hear a splash, and I see a beautiful figure swimming toward me, and with the energy I have left I reach out my hand to this mysterious guardian angel before the blackness that had threatened since my plunge finally claims me.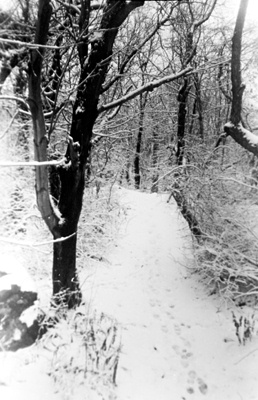 © Kelley C., Marblehead, MA