Deadless (part 1)
November 4, 2010
Hi, my name is Draconis. If you're reading this you are in terrible danger. So stop right now, unless you like a good action – adventure, gory, romance story. O.K., but I warned you.


My story starts when I was on a field trip with my class. We went to the Metropolitan Museum of Art for a history project, and we needed to pick a Greek god to do it on. I don't know why, but for some reason, I had an interest in Hades, the god of death. I picked him because I felt a connection to him, like I had known him since I was a baby, like he was my father or something. But that couldn't possibly be true, since my father had died before I was even born, and also the gods had never really existed.


My mother had told me that my father had died in a fire at work. I had never really cared that much about his death and me mother had scolded me for it. I had actually laughed when my mother told me this.


I know what you're thinking. "He's a mean, heartless person who laughs at his own fathers death." Well when you read the rest of this, you will think otherwise.


After we had left the museum and went home, I found that my mom wasn't home. The whole place was in ruins. There was debris everywhere. The carpet had red spots all over it that looked very similar to blood. I looked around frantically searching for her. "Mom, MOM." There was no one home. I could have sworn that I saw shadows or dark figures move around the house, but I couldn't be sure.


After an hour of laughing, which should have been crying, I assumed that my mother was dead. Now both of my parents were dead. I emptied my school bag and filled it with all of the money that I could find around the house, some food, my pocket knife, which my mother had given me when I was 5. "It will keep you safe, never lose it. Then I packed some extra clothing and some food.




I had my knife drawn and when I had started to leave, something jumped out at me. I have quick reflexes, so on instinct; I turned and slashed the creature. I was surprised when the creature, which had looked like a moving shadow, had turned into a pile of gold dust. Then I had kind of known why my mother had wanted me never to lose it. Then I headed out into the world alone.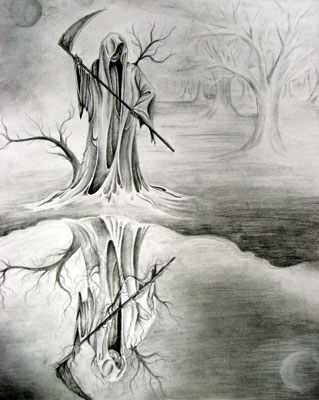 © Lacey T., Wasilla, AK