Maxerilium
February 6, 2010
We faced each other, each of us with sweat trickling down our brow. We'd given up on the face masks and gloves. The smirk on my face told me how we stood. His brow was wrinkled, his face straining in concentration. My whole body was in tune with the blade in my hand. The air around me felt like a buzz. With air howling around me like my own personal gale. My sword poised perfectly in front of me, waiting for the move Gabe was about to make.
I let my mind disperse from its protective bubble, surrounding his like a mist. Pressing it, exploring it. Checking it for cracks and ways in. Finding none I settled for just pressing it. Knowing what I was doing Gabe wasn't about to let me get away with it. He swung at me. I dodged and came up and under. Getting him in the chin a good time with the hilt. He backed off. I kept pressing. While still keeping all my other senses open. My braid wiped behind me in the wind.
He made a swipe at my knees, smirking I parried and came up and around in a twirl. He ducked and pivots in time, coming down with his sword, aiming for my head. I twist and parry again, twirling around I aim a kick for his butt. I make contact, and the sword goes flying. Grinning like a fool, I bring my blade gently to rest on the nape of his neck. We pant like that for a few more seconds. Then I take the point away from his neck, and help him to his feet. We're both smiling like fools.
His dark hair fell to his shoulders. Blue eyes that looked like the sea. Broad shouldered even at only eleven. And a smile that never seamed to leave his face. It was kin to mine, which was more a smirk, always hidden in a corner of my mouth, than an actual smile. I laughed at his huff and puff.
"You're losing it Gabriel." I said as I helped him up. He patted my shoulder.
"Only against you Max. Only against you." We grabbed a towel off the bench and wiped our faces. "One of these days Max, I will finally beat you. And then you will finally lose that silly smirk once and for all." I laughed harder at this, still trying to catch my breath.
"You keep telling yourself that, and one day you'll finally best the Hungry Squirrel in the Bush over there." I gesture vaguely at the direction of the bush while I took a swig of my water bottle. This, this is my life. I know, it rocks.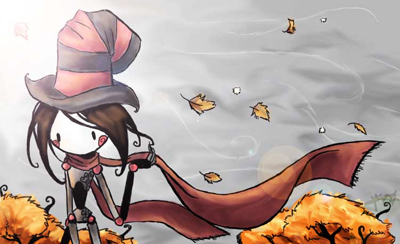 © Kirsten K., El Segundo, CA