There is only one winner
January 19, 2010
There's Only One Winner

"Beep!" The alarm sounded as I got out of the bed thinking it was going to be another boring school day, but in realization I found that I was in Disney World! My football team had gone through the season winning, and after the division, state, regional's championships, we came to Florida!
I dashed to the food court, for today was our national championship game against the Hollister Vikings! We have just came off a 25 to 6 win against Belmont raiders, and scoring the 2nd most in the whole tournament, we were determined for this win.
"FSHHHHHHHHHHHHHHH" was the sound of the starting whistle. The ball rose and rose right into Matt's hands. He got back to our own 40 and on that drive we marched all the way down the field to score the first points! We failed the extra point and then kicked off to the Vikings where they got 30 yards of kick. A great drive got them into scoring position and on a double reverse pass they scored from the 18 yard line, but also failed the pat. It was 6-6 and it stayed like that for the next 3 quarters.
The 2 minute warning came on and as I ran to the sideline talking to Matt about the 47 special reverses. After planning our play that got us nowhere. We punted it off to Hollister. They received it at their own 45 and brought it back down the sideline to our own 25. As time ran down to 1:25, the play that gave them the lead. I setup for wide coverage on my side and turned to Patrick for him to cover the wide-out. The quarterback got the ball and came rite around my end and I started sprinting toward him thinking I could end this drive right here. He just got the pass of RIGHT as he got hit. Him and I both hit the ground hard but heads up to see how the play unfolded. When I turned my head up, all I could see is Patrick lying on the ground and they had scored. I sat there remembering our season and if we lose this game, all of that could go straight to waste.
I got up slowly with my head down and helped Patrick up. I tasted eye black and sweat running through my lips as I hear the roar of their crowd versus the silent buzz of whispering of ours. We grumped back on the field to block the extra point. I was running back to the sidelines to get ready to receive and my coach violently grabbed me and I quote, said "You're the captain of this team. You can't let this whole season go to waste right now, you have to get your team back into this so we can come out victorious. We have: 45 seconds left. You've returned kickoffs before for touchdowns you can do it now!"
I held my head with pride knowing that we still have a chance and we set our feet in the blood and sweat of the grass, the ball hit my chest hard and I took off down the sideline of the field the 40, 50, 40, 30, 25 and stopped just outside of the redzone with 32 seconds left. We formed the huddle and called the play. All I had to do was block and our coach put it into the hands of his own son. Matt scrolled to right with his left hand on my back. I was furious and ready to take someone's head off so the first person blitzing me hit square in the numbers taking the 2 of us out right before the pass was up. When I stuck my head up, like a prairie dog out of a hole, I witness the dreadful sight of Nick fumbling with the ball and then picked off by a Hollister Viking. Down the sidelines he ran and I got up and chased after him down the whole field. I and Matt ran our hardest focusing on knocking him out of bounds. 30, 20, 10, 5 and I fully extended my body leaping in air from 3 yards behind him taking his legs out as he stuck the ball over the plain and scored. Flabbergasted filled my mind as tears came down my cheek. The California crowd was ecstatic for their team knowing that they have sealed the win. I stare at me feet and I get up sobbing to go sit on the sidelines. I was not a content kid at the moment as coaches started to take their anger out on Nick. Me and matt sat their on the cold bench wanting another shot at that play. We wanted this whole game back from the start. We blocked the extra point and got the ball. We decided that this was over and took and knee.
I sat their spacing out, as tears ran down my face thinking how I am going to sleep tonight after this game and our whole season coming down to these last 2 minutes. I looked up and saw that the Hollister fans have stormed the field which only made me sadder and more tears jerked out of my eyes.
My favorite coach, Coach Ronnie, grabbed me over and held me under his arm and reassured me that I had a record breaking season and I did great this game it's just simple that the better team won witch made even MORE tears come sprinting down the path to drop of my chin. He talked with me the whole ride back to our hotel on the records I've broke and that a pop Warner representative will give me a document for most yards, touchdowns, and interceptions in one season.
I was still in the state of terror how the season ended in the matter of 2 minutes. There hasn't been one day that's gone by that I haven't thought about how I could of done this or that to win the national championship.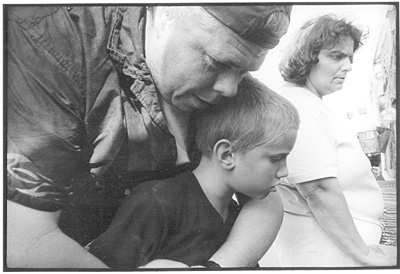 © Mary A., Fullerton, CA