Transitions
June 9, 2013
My dad died when I was ten. That was the first domino to fall. Then my mom took over his business and in her spare time, escaped her accumulating problems by focusing on religion. Since her attention was elsewhere, her six kids had to take care of themselves. We struggled in different ways to overcome the loss of our father and partial loss of our mother. One got depressed; another would find any reason to quarrel; another became quiet. My three-year-old brother tried to cheer us all up, not really knowing why we were sad. I drowned my thoughts in books.
I would finish a book, and within two days, pick up a new one. Over time, I began experimenting: jumping through different eras, getting to know significant figures, and experiencing hundreds of different lives. With those lives came important lessons. Lessons no one had taught me. I admired Matilda's love for knowledge, Sarah Crewe's self-discipline, Peter Pan's love for life, Jo March's want for self-fulfillment, Jane Eyre's determined virtue, and Oliver Twist's humbleness. I began to apply them to my life. I became extra aware of my flaws and tried to fix them. I knew that there wouldn't be anyone there to tell me what I should and shouldn't do. Fictional characters with similar challenges became my role models.
In the meantime, I saw things my family needed. When one was sick, I would stay up all night with them. When my little brother needed attention, I would delay my homework to play with him. When my little sister needed boy advice, I would listen for hours. When everyone had stayed up at night, I would wake up early and make school lunches; and so on.
After a while I forgot that, just like my family, I needed to help myself. To be honest, I'm still transitioning. That is why I'm going to college away from home. I need to find myself. The 'self' which can only be found away from my family. Books have taught me that I'm ready to live the next chapter of my life.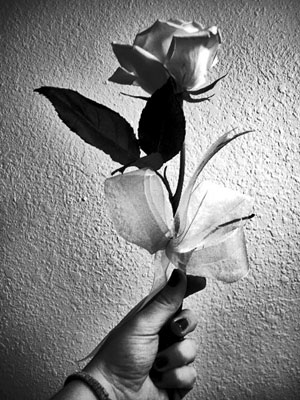 © Lauren R., Edmond, OK