A Ride in the Park
October 25, 2011
It was a cool summer day at Six Flags. My sister's church hosted the trip, but she went off to look for her friends. I was with my mother looking out for food to eat and games to play. Anything to avoid riding the roller coaster. I was attracted to a stall giving out electric guitars to anyone who could make an impossible throw over the wooden ledge, off a board, and into a basket. Mom must have sensed the real reason for my interest in those impossible games. I was trying to avoid those scary rides.

"How about this one?" she said, pointing at the Superman ride that seemed to blast off into space. "Not that one," I said in a half-chuckle. I thought back months earlier to an 8th grade trip at Dorney Park. I was standing in line waiting to ride the roller coaster. When it came I walked away to ease my accelerating heartbeat. I'm not really comfortable being in the air. I have never been on a plane before, and we didn't go out on these types of trips every year. Even when I was younger and would jump down the steps from the front porch, I only experienced a split-second of flight. Naturally, I was apprehensive when mom suggested the Superman ride; I didn't want to go on.

My mother's attention switched to the Scream-o roller coaster. My blank stare at the ramp extending high above was enough to convey an answer. "Well, I'm going." she said, walking away from my side into the entrance. Reluctantly, I followed her. I have since realized this was the moment when I began to act with my mother's resiliency in the face of fear.

The older I get the more conscious I become of the values my mother instilled in me at a young age. I think of the many times I have seen her walk out onto the porch and start praying moments after we heard shots ring out in the streets below. Fear has no place in her house. It can never control me either. If it had controlled my mom, she would not have been able to sacrifice everything and raise four children alone. She would not have been able to thrive after her pastor, her father, and her husband (my father) all died within months of each other. If my family had let fear rule our actions, we would have become victims of the circumstances and made no progress in life. I don't make excuses and I do not allow anyone to make them for me. That's why the day after Christmas I walked two miles from home to go and shovel snow at school, where I work for the student maintenance team. Fear is an atomic bomb that can destroy a field of dreams. My upbringing has taught me that I can accomplish anything.

Waiting for the Scream-o car to approach, I didn't realize how much this ride would mean years later. That day I conquered my fears, inspired by my mom, a woman who has given me a reason to dream.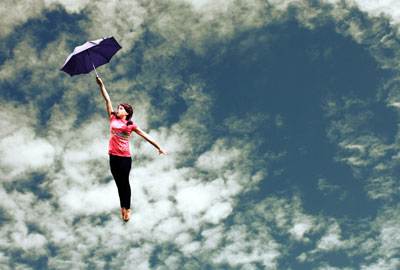 © Sandy H., Woodbridge, CT