Untitled
January 23, 2011
It was nearly nightfall and the orange sun loomed in the distance. The waves gently crashed on the shoreline, continuously stirring the sand, erasing the trails of those who had walked there. A light breeze rushed through the trees, wrapping my body in a chilled escape from the heat. Moments passed and the conflicted sky changed from deep blue to a dark navy. Lost in thought, my tattered book lay open in the sand unattended.

It was early August and after the lengthy drive up with my family I was glad to finally relax. As everyone unpacked inside I could hear the hum of conversation behind me. It seemed ironic that two worlds so different could exist so near each other; one serene and seemingly untouched by mankind, flowing naturally along; the other rough and industrialized, dependent on technology. As I straddled their border, the buzz of electricity behind me and the sand shifting at my feet, the shape of an elder man emerged from the darkness to my right. He walked with a purpose, yet not too quickly. His posture was nearly perfect, but a slight droop in his shoulders made him seem tired, almost weak. He carried a small pitcher and when he reached the edge of the water began filling it in the spring.

I watched as he rose and began to turn home. When he stood he looked my way and smiled warmly. I gazed back at him and waved with a light grin. Soon he was gone, the scene reset. Still smiling I tilted my head back and looked up at the sky. It seemed the two worlds were less separate than I thought. We didn't merely coexist, we existed mutually; one relied on the other for resources and therefore protected it in the process; one gave us inspiration which we turned into innovation, art and beauty.

An educational environment works in much the same way. Different people and ideas exist together, change each other and develop new ways of life. Good ideas are improved, outdated ones forgotten; cultures blend together and more and more ways to enjoy and understand life are shaped.
Admittedly, my background could be more diverse, but together with other students great things are bound to happen. I plan to change this world for the better. I do not know how, but I do know I cannot do it alone. One day I too will walk down that beach, but my trail will not be erased.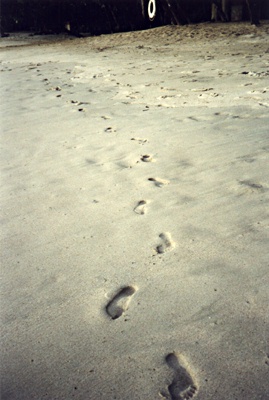 © April W., Rogersville, MO