A Sense of Belonging at Camp Ballibay
MAG
April 2, 2018
A
lmost every teenager wants to belong. Belonging is not so much being like everyone else, but finding acceptance and membership in a group of people who enjoy each other. Whether they still want to belong to the world of kids or are seeking membership as a young adult, searching for community through love of music or love of sports, teens possess a desire for connection. As a teenager myself, I have always been in search of a community. What one of my friends called a "tribe" was the thing I was missing as I explored my interests and looked for connection. I had always sought out groups of people who loved the things I loved. It was a slow, and sometimes frustrating, process. Then, three summers ago, I began attending camp Ballibay in Pennsylvania.
I don't remember exactly what I was expecting from Ballibay– I knew it was an arts camp, that my mom had gone there years ago, and that it sounded like a great place to me. I was certainly excited. What I experienced, however, I couldn't have really understood or predicted before it happened.
The camp is expansive – with trees and grassy fields, the occasional outdoor art installation, picnic benches where people play guitar, plan scenes of the movies they're making, or just talk, and buildings with big open windows. There is a large, fenced pasture next to the art barn where a few horses graze – sometimes kids wait next to the fence and the horses come over to get pet and fed grass. If you aren't going to a ballet class in the dance studio or a music lesson down in the rock department, you can drop by open classes wherever you want or find some friends to sit somewhere with. There are no phones at camp, so we have the experience of being completely freed of the rest of our lives for the summer. We bring our clothes, instruments, music players, dance shoes, riding helmets, art supplies, and focus on getting to know each other and doing what we love for a while. From the minute you arrive at Ballibay, it is filled with opportunities and people who want to get to know you, teach you, and even learn from you.
The people who come to Ballibay are different than those I've met at any other camp. Ballibay attracts talented, passionate counselors from all over the world. One night between camp sessions, I was hanging out with my counselors and a fellow camper; We represented the U.S., England, Sweden, and France. Campers come from all different places as well. Everyone shares one thing though – an independent way of thinking and a desire for creativity that draws us to arts; music; movie making; photography; theater; lights, sound, or stage crew; horseback riding; and dance. The unique environment of Ballibay makes it easy to connect with others. There is a sense of immediate belonging. Being surrounded by like-minded, talented people in a unique and collaborative environment is so freeing for everyone there. Everyone has their own unique perspective, but they come to Ballibay for a very import reason: they belong there.
At camp, I get to play rock music with bands that the rock campers are arranged into – which I love. Band night, when all the bands perform at the end of the session, is a culmination of so much time and energy and excitement! I also take riding lessons, sometimes even cantering with the horses or going on trail rides into the woods and fields around camp. I go into the art barn when I can, always finding some friends working on cool projects or joining open lessons in session.
I try new things too. A counselor convinced me to try clarinet one time – just for fun – and sometimes I'll take a dance or yoga class just to try it. I've made movies with friends, recorded music, helped with collaborative art pieces, and done performances at the bonfires and performance nights throughout the summer. I spend the rest of my time just being with the people who I grow to love so much.
This is why I go back to Ballibay. It has become this haven for me; all year, I look forward to camp. It is a place unlike anywhere else I've been.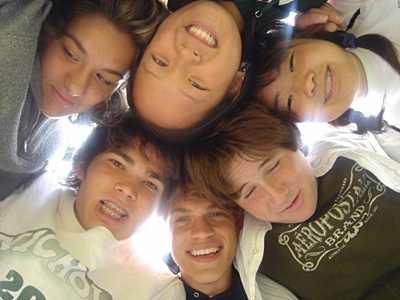 © Zhihan C., Hudson, OH