VISIONS Service Adventures
MAG
August 24, 2014
International: Having experienced three VISIONS trips so far (British Virgin Islands, Montana Northern Cheyenne, and Dominican Republic), I can lend an interesting perspective on what it's like to be part of this summer program. Unlike other summer community service trips I've looked at in the past, VISIONS is honest about accomplishing its goal: community service. They do not try to pretty it up online with descriptions of beautiful beaches or tall mountains. Everyone who goes on a VISIONS journey shares one objective: to help the less fortunate and give back.
The staff members know exactly how to chaperone students. They are never overbearing or annoying, and if there is a problem, you can have a genuine conversation with them. They also don't act like your superiors; the staffers are more like older siblings than parental figures.
The campers on my three trips were all hardworking, fun, and well-rounded. I have never encountered a bully or clique, which is impressive considering we're talking about teens.
Our excursions after work and on the weekends were diverse and engaging. From venturing out to waterfalls and a "discoteca" to overnight backpacking, I never felt bored or out of the loop with whatever culture we were immersed in.
At times campers may feel sad, homesick, or frustrated, which is normal for both new and veteran travelers. This is where circle comes into play. Circle, also known as "communidad," is a time where we share what happened that day and how we feel, and complete an activity that helps us get to know each other. At first this sounded cheesy to me, but we do not sing "Kumbaya" or hold hands. During circle, we open up to each other and share laughs, tears, and honest feelings. It's healthy, especially in such an active environment where you have little free time.
I am a huge fan of VISIONS. I had been searching for a reliable summer program for years, and I finally found one. I can't wait to go on my fourth VISIONS trip next year. I hope to see you there!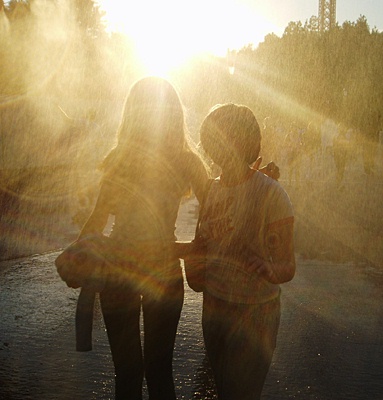 © Rebecca Y., Los Angeles, CA