New Film Academy Summer Camp in New York City
October 9, 2013
I started getting into film making last year when a friend of mine asked me to act in his short movie about aliens. Realizing I wasn't much of an actor, I grew more interested in what he was doing; writing his own script, directing the actors, and editing on his Mac. We continued working together throughout the year and my parents eventually got me my own camera. When it came to decide if I would be returning to my usual summer camp, I knew I wanted to keep working on my movies. After a few months going back and forth with my parents, we eventually decided that I would stay close to home by enrolling in the New York Film Academy's 4-Week Filmmaking Camp.
For me, the six weeks went by like a dream. Thinking that I was pretty experienced already, I quickly realized just how much there is to learn in film making. My main instructor, Bryan Norton, is a professional director who was working on his own short film at the time and we got to visit the set on the weekends to see how his crew worked together. Having only shot digitally before, I decided to give shooting with 16mm film a try, which was a huge challenge for me. I had never loaded film before, let alone shot with it, so this was an awesome experience that I learned so much from. The amount of equipment I got to use alone was almost worth it. Not only did each of us write, direct, and edit our own films, we also got to work in small crews on each other's films, handling different roles like holding the boom mike and serving as assistant camera operator, roles I'd never gotten to play before.
In addition, we learned how to edit on Final Cut Pro, a program I had no experience with and I learned so much about the different approaches to editing, like non-linear editing (which I didn't even know existed or knew what it was). Also, learning how to digitally transfer film to Final Cut Pro was so complex and eye-opening. By the time the camp ended, I was a convert to shooting with film over digital and am currently saving to buy my own Arriflex S 16mm camera (though am still working with my digital camera just fine!)
But for me, probably the best part was that we spent so much time on our movie sets. Having only shot films with myself and my friend, it was both amazing to work on so many projects and tiring, as you really have to learn to be patient until the director is finally happy with a shot or scene. While half of the day was spent learning the fundamentals of filmmaking and what to expect on the set, the other half was what really made the experience so worthwhile. And it wasn't even half of the day as often we shoot well past dinner, each of us set on getting the best work out of our fellow crews and actors.
I should also say something about the other kids that were in the program. As this was a camp for kids ages 14-17, everyone there was super passionate about film and were more interested in focusing on their personal visions than forming cliques or whatever. Everyone really came together in a way I've never experienced at camp before and I think it was all of us having our own projects and working on each other's really brought the whole group together. In my group, there were twenty of us and most of us still keep in touch and are still working on our own films after school and on the weekends. The camp really gave us the experience we needed to start improving our work and better understand the ins and outs of making a movie. If movies are something you're interested in, I would definitely recommend looking into NYFA's summer camps.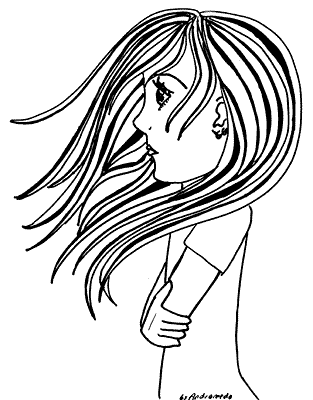 © Andromeda M., Milford, CT