Madden NFL 18 on Xbox One
January 25, 2018
"Do you mind if I take this one, it's pretty personal. With the 250th pick in the 2017 NFL Draft, the Minnesota Vikings select… Devin Wade, QB, Longshot" are the last words of Madden NFL 18's game changing new mode, Longshot. Longshot is one of Madden's many modes, along with Connected Franchise, Ultimate Team, and Draft Champions. I will be going in-depth and explaining each of these modes, so follow along if you desire.

My first and favorite mode is Connected Franchise. In Connected Franchise (also known as franchise), there are many paths you can take, and many times you can take those paths. You start off by selecting 1 of 32 teams in the NFL. Soon after that you can pick your role. You have 6 potential options at this point, which are: living or created owner, living or created coach, or living or created player. If you choose one of the first 4 options, you are going to manage the team you chose before, and try to lead them to a Superbowl victory through trades, free agency, and the NFL Draft. Another option you have is the Fantasy draft, where every player in the NFL goes into a 53 round draft that completely shakes up the NFL. Some players that are on teams now, may not be on a team after this, and vice versa. I used to love doing these, but it is very hard to rebuild a team since you aren't positive on which players are on which team. If you choose one of the last 2 options, you will play each of your preseason, season, and postseason games controlling that player on the team you chose before. Specifically, if you choose the "Create-a-Player", you can make yourself into someone of your choice, such as yourself, or you can choose to make Devin Wade or Colt Cruise, the 2 main players in the next mode I will explain, Longshot.
Longshot is Madden's newest and most controversial modes. It leads you through Devin and Colt's life and journey to the NFL. The first cut scene contains Devin, Colt, and Devin's father playing football in the yard before a rainstorm hits. In this scene, you (Devin) must throw the touchdown pass to Colt by maneuvering the ball to the side of Devin's father. After this, it cuts to a scene 16 years later, where Devin and Colt are driving to the Regional Combine in Indianapolis. Once you reach the Combine, you get an option, which will affect your Draft Grade. You can choose to either take the video with Colt, or hurry to the lobby to sign in. If you take the video with Colt, your draft grade will go down and make scouts controversial on whether to take you in the draft. You then go through a series of challenges to raise your grade at the combine. Then a man approaches you asking if you would like to be in a new show he is managing called Longshot, which you will say "I will sleep on it". Once you accept, you will be in a cut scene with Jack Ford, a legendary NFL coach. He will then take you through multiple practices and meetings. You then meet Dan The Man, Dan Marino. Soon after, you travel with everyone to a military base and play a game that highly affects your combine grade. Once that game is over, it brings you through a series of challenges you must complete. The last challenge you must face is throwing the touchdown to win the Sugar Bowl. This was the game Devin threw the game losing interception and quit football. This is the most important part of the mode. If you don't score the touchdown, you will not be drafted by an NFL team. Once the draft comes around, there are many options the game will choose for you. If Devin is drafted, he will go to the favorite team he chose at the start of Longshot. If that happens, Colt will be drafted by their rival. It is not possible for both Devin and Colt to go undrafted. If you make it to the last pick in the draft, Devin does not get drafted, but Colt does. In the next scene, you get a call from your agent (Dan Marino) saying that there are 2 teams interested in you. Your favorite team that you chose, or the team Colt got drafted to. This choice is completely up to you, and Longshot ends after you choose. Once you finish Longshot, there will be a set of 27 solo challenges unlocked in Ultimate Team, for you to complete, which I will be talking about next.

MUT is by far Madden's most popular mode, played by millions over the world. The point of MUT is to build the best team possible by playing games, and buying packs. One thing that Twitter has been raving about is pack odds. There are very high chances you don't pull the new card that came out that week, or the rare card of the newest promo. All of the MUT community have reached EA's headquarters, and you now know what you will pull out of that pack you buy with coins or points. You buy points with real life money. It costs $100.19 for 12.000 points. Each promo pack costs about 500-2,000 points varying on what comes in the pack. You can also buy packs with coins, which you earn by playing solo challenges and season games. Each solo raises in coin total as it goes on. The newest promo that just came out has 31 solo challenges, starting at 500 coins and gradually going up to 5,000 coins per challenge. With those coins you earn, you can either buy packs or players. You buy players in the Auction House. Each player costs different amounts of coins based on their stats and rarity. The most expensive card in the game right now is 94 ovr Carson Wentz. He currently goes for 1.1 million coins according to Muthead, EA's Madden Headquarters. You can also get coins buy selling players you pull out of packs. The highest overall (ovr) player you can pull is 99, with the lowest being 58. To make it to the playoffs in Seasons, you must win 7 games before losing 4. If you achieve that, you will go into the playoffs. If you go 7-0 in the regular season, you will have a first round bye, meaning you will only have to play 2 games to make it to the Super Bowl instead of 3. You must win all these games without losing to potentially win the game of all games, the Superbowl. I'm currently sitting at 1.4 million coins with an 89 overall team and 4 Super bowl wins. All the cards I have on my team I have played with in Draft Champions, which I will be talking about next.

Draft Champs was introduced to us 2 years ago in Madden 16. It consists of 20 rounds of players in Ultimate Team chosen at random draw. You do however have 5 guaranteed rounds to get a player at a certain position. You have a guaranteed QB, HB, WR, CB, and Legend round. The reason a lot of people like Draft Champions is because it gives you a chance to play with players wouldn't be able to afford in Ultimate Team. You must win 4 games without losing to win the Superbowl, which gives you rewards in Ultimate Team. If you win no games, you get no reward, If you win 1 game, you get 1,000 coins and a gold player pack. If you win 2 games, you get 5,000 coins and a gold player pack. If you win 3 games, you get 5,000 cons and 2 gold player packs. Finally, if you win all 4 games, you get 10,000 coins, 3 gold player packs, and a guaranteed legend.

All in all, Madden can be fun for many people in many ways. You can have fun rebuilding teams in franchise, to drafting a "God Squad" in Draft Champs. This game does have flaws though, such as the contemplation of pack prices and pack odds. Although this game does have its flaws, I believe it is worth the money to buy this 5 star rated game, in my opinion.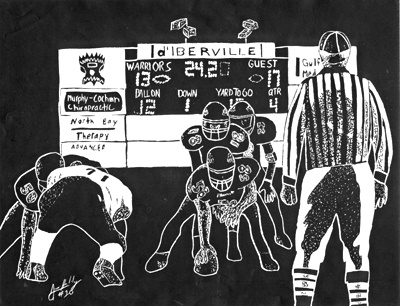 © Jason H., D'Iberville, MS