NBA 2k18 on Xbox One
November 27, 2017
NBA 2k18: Is it worth It?

The company of 2k Sports has always been very successful in releasing its annual basketball game. The NBA 2k part of the company targets basketball fans of all ages and races, and it has succeeded. Recently so, the amusing company has yet again made the national headlines with the release of NBA 2k18. So far, NBA 2k18 has become the top-selling sports game for the month of September 2017. However, in my opinion, the top-selling videogame has a lot to improve on.

To begin with, the animations used in the game have way too many bugs and malfunctions. To be exact, the videogame experiences a lot of clipping. During the game, characters may glitch into one another. It happens in many videogames, yet I happen to see it happen even more often. In the NBA 2k18 MyCareer (Game mode where players experience a taste of the NBA life) cutscenes with your own customizable character seem to glitch out too! Sometimes, your character might become invisible during a cutscene! I am somewhat personally agitated since this year's NBA 2k game was supposed to be "new and improved." (7/10 on videogame animations)

However, the company has made some strides in the player customization. After making your own character in NBA 2k18, players can customize their players. In the newly implemented "Neighborhood", players may run around the town and do many things. Players may choose to get haircuts, tattoos, and shoes. Players can make their own shoe and get a haircut of choice! In my opinion, 2k did an amazing job on character customization. (10/10 Customization)

As a final point, I am undecided on my opinion of the improved shooting. In NBA 2k games, the shot meter is everything. The shot meter determines if your shots go in or if your shots don't even come close to the rim. In this year's copy of the 2k game, the feedback for every shot has vastly improved. For every shot taken, the player is instantly given feedback on the release of their shot and how tightly the shot was contested. However, the jump shots can easily be exploited. Some jump shots are more consistent than others. Even so, the shooting in the game has definitely improved. (9/10 Improved Shooting)

Ultimately, NBA 2k is a very good game. It also has many areas on which it has to improve. Nevertheless, it's a great form of entertainment and I recommend you try it.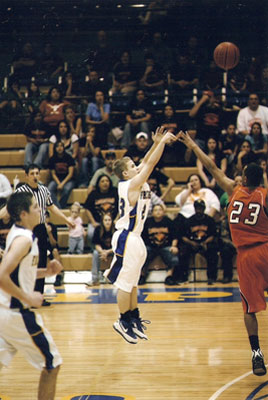 © Jordan M., Lubbock, TX