7th Dragon III Code VFD
July 21, 2016
Preview of the breaking of a trend in a flawed, but entertaining way
What game comes to mind when you think RPG? You have your answer? Good. Now, what is the setting of the game you imagined? I can only imagine that it's a fantastical land imbued with magic and swarming with mythical creatures that one can take on by casting spells or attacking with weapons such as swords and axes. Now take all these aspects and imagine them in the future. I don't mean Fire Emblem Awakening future, I mean flying cars and virtual reality future. Done imagining? Good. Now face reality and realize that there's already a game that matches this exact description by the name of 7th Dragon III Code VFD and while its demo is undeniably flawed, its kick-ass none the less.
In the demo for 7th Dragon III Code VFD, players take control of a character named Yaiba (characters will be fully customizable in the full version of the game) who arrives at a building that holds a virtual reality game by the name of 7th Dragon inside. All who play this game think it to be just that, an average video game. However, this "game" is actually a way to select three people to be dragon hunters by putting them through a simulation of a past attack by one of the great dragons. Did I forget to mention that Earth is infected by a virus passed on by dragons that have brought man-kind to its knees multiple times? I did? Then I might as well also mention that there are seven great dragons. Six of these dragons have appeared and when the seventh one pops out to say hi to mankind, you can kiss our existence goodbye. With the magnitude of the situation now explained, shall I explain the gameplay?
7th Dragon III Code VFD is a dungeon crawler. With that it is also an RPG. So of course you'll be exploring dungeons with a turn-based combat system that has the standard regular attack, special skills, the ability to guard, and the ability to retreat (though this will most likely never be used as even on the hardest difficulty the demo is excruciatingly easy. Hopefully the full game is more challenging). If you thought that was all the gameplay had to offer, you were sorely mistaken.
In the demo for 7th Dragon, players have access to four of the eight classes that are to be available in the full game. The classes in the demo are Samurai, Agent, Dualist, and Godhand. All of these classes have different play-styles. For example, the Agent can hack enemies and take a strategic approach by having them attack each other while classes like the Godhand can take on enemies directly with brute force and have a secondary focus on healing their allies. Being able to customize a party out of these four classes made me feel like I had control over who I was playing as. Being that I find this feature alone exciting, I would buy this game just for the fact that I can fully customize my characters. This means clothing, naming, voice options, and oh god the possibilities are endless! Too bad the sound design ruins this feeling (only slightly. What? Its FULL CUSTOMIZATION! What's not to be excited about)!?
Although the highly detailed Bravely Default art-style is visually pleasing both character and setting wise, the sound effects are lacking. While some sound effects (such as the ones that play during battle) are bad-ass, most sound effects are either absent during cut-scenes or play randomly (excerpts of voice acting are one example) during text dialogue. While this aspect is too early to judge as I know it to only happen in the demo, it'll be a real killer to the experience of 7th Dragon if it remains unfixed in the full game.
Although the demo for 7th Dragon III Code VFD has its ups and downs, it does a fantastic job of wanting me to buy the full game (mostly in part to the epic cliffhanger it leaves you on). While the lack of difficulty and certain sound effects may sway others from buying the full game, the temptation of full customization and traveling to different time periods (thanks to a time machine) are just too big of a selling point to ignore the full game. So while I don't plan on getting it right away, I'll be making sure to keep my eyes out for any available copies of 7th Dragon III Code VFD.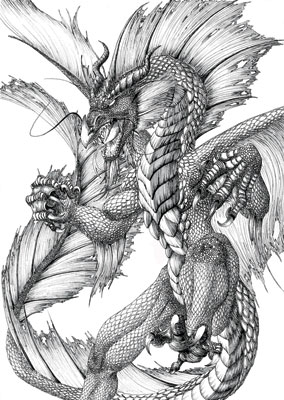 © Lauren R., Belmont, MI