Criminal Minds
April 15, 2018
Are there specific physiological reasons why people murder? Is committing a crime always a choice or is it sometimes out of one's control? The American Procedural Crime Drama series Criminal Minds, created by Jeff Davis, focuses on analyzing the behaviors of each criminal in every episode. The show mainly takes place at the FBI's Behavioral Analysis Unit (BAU) in Quantico, Virginia, but the characters also spend a decent amount of time traveling around the country to help local police analyze different crime cases based off of behavior. Criminal minds is unique as it differs from the typical procedural dramas on every day television, as it focuses on profiling the criminal rather than the crime itself. The show first aired in 2005, and continues to be a CBS and Netflix hit. The thirteen season series follows a hand selected group of FBI profilers, whose job is to catch criminals based off of their behaviors. The show centers around the cases, but it also highlights some of the team members' personal lives. The show touches upon each profilers' background and home life in order to depict how hard of a task profiling is. The tight knit team spend time creating a general profile for the "UNSUB"; the criminal, in hopes to narrow in on the profile as more evidence is formed and found.

People who love police procedural, thrillers, action, and crime drama will crave Criminal Minds. This show is not only entertaining, but it is also educational. Viewers will find themselves oddly sympathizing for the criminals. Sometimes the criminals are just psychopaths, while other times viewers will learn that the criminal is struggling from some type of mental illness. Although killing people and committing crimes is not praisable or exceptable, fans will find themselves struggling on whether to hate or feel bad for the criminal. Anticipating both the criminal and profilers next move will become a regular occurrence for any viewer. In certain episodes it is easy to predict the outcome or the profilers next step to completing the crime puzzle. The excitement that will rage through your bones when you correctly predict what's to come will be indescribable. Not only will you feel accomplished and smart, but you'll feel uncontrollably curious as to how you would fit into the FBI.

The hand picked team of profilers all bring different and essential skills to the BAU to help get the job done. Each profiler is interesting and skillful in their own way which makes it almost impossible to not get attached to the characters. Some of the most influential and talked about characters that people fixate on are Dr. Spencer Reid, the brains of the team, Emily Prentiss, the staunch female lead, David Rossi, the experienced voice of reason, and last but not least the funky and vibrant technical analyst, Penelope Garcia.

Furthermore, one will definitely find themselves binge watching as every episode is a new adventure. The expectation is that when you watch the show you will be on the edge of your seat. What makes this show tempting to watch is that it does not follow a general storyline. Each episode has the same profilers who use similar profiling expertises, but the location changes and the crimes change too. Every episode is fresh and enticing. Getting bored from this show or dozing off is simply unheard of.

Throughout the success of Criminal Minds, magazines and online critic sights have continuously been flooded with peoples opinions on this show. Aimee Lewis, from Kings River Life Magazine, passionately shares that
"In my opinion, Criminal Minds is one of the best shows on television because, not only does it have some of the best actors, actresses and writing, but because it shows how something that is not well-known and very underestimated works, and how affected men and women are by a job in the FBI, or law enforcement in general. It shows just how much strength one has to have to be able to do a job like this."

Furthermore, Philadelphia Inquirer writer Jonathan Storm, who published his thoughts on the online critic sight "metacritic" also agrees that Criminal Minds is the kind of show that viewers certainly like. He claims that "CBS has become the No. 1 network with an incessant stream of it, and Criminal Minds is as well-made as any of them". From adults opinions to sixteen year olds' opinions, this show is an undeniable hit.

There is no possible way to not get involved in this show if you are into Crime Drama. This binge worthy show will leave you feeling all sorts of emotions and force you to look at yourself from another lense. Amazingly, this show influences the people watching it to have a passion for profiling and for catching criminals. It is quite possibly that from just watching this television series, one could find their future career. Maybe this series has sparked your interest in criminology and profiling. Ultimately, this show may influence you to want to explore future career paths in the FBI. This show has the potential to open up opportunities beyond the TV screen, and this series will have you craving more due to its' intense and compelling plot, characters, and amazing special effects. All people should give this show a fair chance. Before you know it, your eyes will be glued to the screen and the obsession will begin.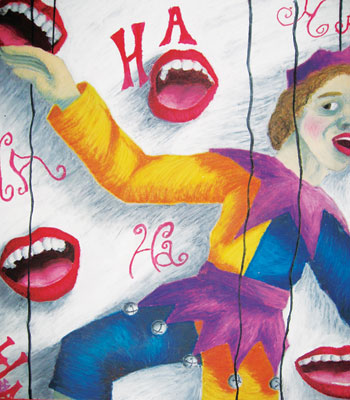 © Carollynn G., Hawthorne, NY