The Good Place
November 28, 2017
Death. An underlying thought in humans' heads all of the time. What happens after death? Do souls travel to heaven or hell? Is there even an afterlife? Or does it all just fade to black? "All humans are aware of death, so, we're a little bit sad all the time," Eleanor Shellstrop, the stubborn main character of the show The Good Place, says.

Written by Michael Schur, who was previously a writer for shows such as Parks and Recreation and The Office, The Good Place is a television sitcom that puts a light-hearted mood on death and the afterlife. All the characters are in "heaven," "everything is fine," their lives on Earth were stopped short, and they can now spend their days in a "paradise." However, even though Eleanor's life has ended, her existence definitely hasn't. And with the big change of scenery, it is difficult for Eleanor to adjust.

Eleanor's story starts in a room, with green words across the wall that say, "Everything is fine." With a smile on her face, she's escorted into an office by a supposed angel named Michael, played by Ted Danson. She is told that she's made it to The Good Place, the afterlife for people who have been kind to others on Earth. She is introduced to a moral philosophy professor named Chidi, played by William Jackson Harper, her soul mate, whom she will spend most of her waking hours with in the afterlife. Eleanor reveals to Chidi that she doesn't belong in the Good Place, and with some convincing, Chidi agrees to teach Eleanor how to be a good person so she could finally belong.

Now of course, this is only Eleanor's story. There are others who arrived in the afterlife with her as well. There's Tahani, (played by Jameela Jamil) a wealthy woman that raised millions for charity, yet was always left in her sister's shadow. There's Jianyu, (played by Manny Jacinto) a silent Buddhist monk from Taiwan and Tahani's soulmate. And Janet, my personal favorite character, (played by D'Arcy Carden) who helps make everyone's experience in the afterlife more enjoyable. She acts like a robot and looks like a human, yet confirms she is neither. The acting in this show is phenomenal, with a comedic cast and engaging characters. The actors and actresses convince the viewers to watch more. I believe it is absolutely worth watching, even if you're only doing it for Ted Danson's jokes or D'Arcy Carden's quirkiness.

This series also has a great setting. If the viewer really pays attention, one could see things such as the clever restaurant names in town, and the lack of stairs in Eleanor's home, which we learn the purpose of in season 2. These features aren't the most important, but they really add to the appeal of the sitcom. Another great thing about it is the surprises. The Good Place, only on its second season, has had many twists throughout. There have been flabbergasting romances, jarring crises, and the shocking twist at the end of season 1. All of the surprises give a whole different meaning to the drama, and really demonstrate how unpredictable things can be.

In a mess between good and evil, Eleanor tries to find her place, but life is unforeseeable, and in this scenario, so is heaven. The Good Place impeccably conveys how humans never truly stop learning, even if they're already dead and gone. Her actions are silly, serious, and shocking throughout the series. You'll want to stick around to see how Eleanor manages the chaos, and whether she's able to overcome her evil ways or if she'll be banished from "The Good Place."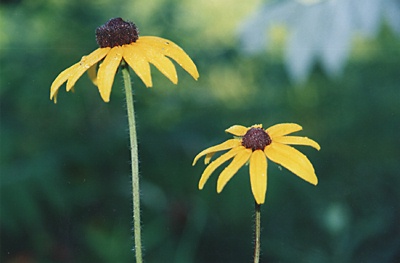 © Allison S., Eau Claire, WI