Friends
MAG
October 26, 2017
"So, no one told you life was gonna be this way, your job's a joke, you're broke, your love life's D.O.A." These four lines of the "Friends" theme song perfectly capture the story of six friends sharing a New York apartment as they struggle to face the unexpected realities of love and life. As the characters face life's challenges, their friendship remains the only stable aspect of their crazy, chaotic lives. Filled with comedy and drama, this show will have you on the edge of your bed, binge-watching episode after episode and laughing so hard that it's impossible to breathe.

Airing for the first time in 1994, the show's reputation and humor have failed to die 24 years later. "Friends" remains a classic must- watch show due to its hysterical plot and lively characters. Each character is uniquely developed and possesses a personality you can't help but fall in love with. Rachel Green (Jennifer Aniston) is the bubbly popular girl who has never had to work a day in her life – until now. The show starts when Rachel is cut off from her parents' credit card and must learn to survive in the real world. Taken in by her old high school friend, Monica Geller (Courtney Cox), Rachel is given the opportunity to stand on her own feet. Monica, the organized, neat freak touches a soft spot in the hearts of viewers. Her depressing love life and past experiences of being bullied in high school for being overweight highlight her newfound success in life as a chef. Monica's story of overcoming obstacles and stereotypes allows viewers to form a relationship with her relatable character. Phoebe Buffay (Lisa Kudrow), the energetic hippy, is impossible to hate. Her inherit happiness is contagious. Her smile and outright ridiculous comments bring the story to life and lighten every scene. Living in the apartment across the hall are Chandler Bing (Matthew Perry) and Joey Tribiani (Matt LeBlanc). These hilarious characters are major components in adding to the comedy of the show. Ross Geller (David Schwimmer), older brother of Monica, is the nerdy scientist who has been crushing on Rachel since high school. With Rachel back in his life again, drama is sure to unfold. The combination of these characters' wit, charisma, and larger-than-life personalities, is incomparable to any other show.

The acting is phenomenal. The characters' responses to realistic situations produce authentic and genuine emotions. The dialogue ranges from intense confessions and emotional epiphanies to snappy retorts, resulting in a show with the perfect ratio of drama to comedy. Viewers are guaranteed to laugh and cry with the characters.

With humor, romance, and perseverance, this '90s sitcom explores the value of friendship. "I stepped up! She's my friend and she needed help. And if I have to, I'd pee on any one of you!" claims Joey who knows that true friends don't let other friends suffer from jellyfish stings. Although seemingly ridiculous, this excerpt captures the essence of the show's humor while portraying the depth of the characters' friendship. These friends tackle life together and are willing to do anything for each other.

Overall, this show does an excellent job portraying the inseparable bond of six friends as they navigate their way through life's ups and downs.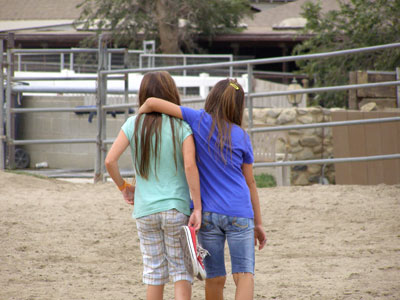 © Austin K., Studio City, CA