Disney Channel: Through the Years
June 9, 2017
Disney Channel: Through The Years

Being a teenager in high school, I lived through the prime?according to many?of Disney Channel in the 2000's.  My generation grew up singing "Nobody's Perfect" by Hannah Montana and claiming to have visions like Raven.  We all loved to laugh at Zack and Cody's crazy life living in a hotel, and we wished we could be wizards like Justin Russo.  I think that as a generation, we can all relate to Miley Cyrus and her challenges throughout her life.  As Hannah revealed her secret, and Miley Cyrus began to outgrow her show, the children watching matured with her.  We all became connected to our favorite Disney Channel characters, and we gained inspiration for our lives from their experiences.  Specifically, Sabrina Carpenter, a current 18 year old Disney star, also grew up in the time period with Hannah Montana.  She recently said, "My first inspiration for acting came from the first episode of Hannah Montana. That's when I knew I wanted to be a singer and an actress".  She was definitely not the only child who looked up to her idols from Disney Channel and aspired to be like them eventually.  These shows were undoubtedly a huge part of our childhood, but we all wonder if Disney's new programs are as influential on kids now.  Thus, I watched 5 shows from old Disney, starting before or in 2010 (the year Hannah Montana revealed her secret), and 5 shows from new Disney, starting after 2010, to see how they compare to each other.

Old Disney Shows (Starting before or in 2010):
That's So Raven
I haven't watched this Raven Symone's show in years, but it did not disappoint me; it was just as witty as I remembered it being.  There honestly is not a single cast member who doesn't play their role well.  Although it is obvious that it's an old program with the outdated clothing and slang, it is still extremely enjoyable to watch.  Time will never be a factor when it comes to That's So Raven; it will always be a classic.  No episode is ever inferior to another, as they are all interesting, making it one of the most well rounded projects ever to be on Disney Channel.

The Suite Life of Zack and Cody
Zack and Cody were two of the most entertaining young stars on TV back when they were on air.  They complemented each other's acting perfectly and knew exactly how to make an audience laugh.  The addition of other hysterical characters in their hotel made this one of my favorites on this list.  However, when the original program ended and transformed into Suite Life On Deck, I was a bit disappointed.  Although the sequel was still comical and decent overall, the loss of some key characters and the change in setting made the original version much better.  Regardless of their switch to Suite Life On Deck, The Suite Life of Zack and Cody will always be a first-class Disney Channel show.

Good Luck Charlie
Good Luck Charlie is a solid show, but I don't think it belongs on a list with these other iconic ones from my childhood.  There's some helpful tips and lessons embedded into this show through the video diaries left for Charlie for when she grows up that could be useful for the audience to learn about, which creates a fascinating concept.  There's also a hilarious cast who can make us laugh at even the simplest tasks or problems.  They definitely make Good Luck Charlie exciting and enjoyable to watch, but as I said earlier, it just will not be quite as great as the other names on this list.

Wizards of Waverly Place
I remembered this show being terrific, but I didn't realize how fantastic it truly was until I rewatched it.  Although the overall concept is not realistic, it doesn't go over the top with any of its episodes.  Yes, wizards are completely fictional, but they tie their wizard lives into their real lives that helps the audience relate to the characters.  Wizards of Waverly Place has not only a decent story line, but they also have an immensely talented cast.  Wizards of Waverly Place is without a doubt one of the best from Disney Channel.

Hannah Montana
Hannah Montana was possibly the most successful TV show ever from Disney Channel, as she was a phenomenon not only on the screen but also off of it.  Miley Cyrus toured as Hannah Montana, and she even created a Hannah Montana movie during her time with Disney.  The success of this show was well deserved as a result of its great cast and entertaining episodes.  Hannah Montana was Miley Cyrus' big introduction into Hollywood, and she did not disappoint with her performance.


New Disney Shows (Starting after 2010):
Bunk'd
For people who may not be very familiar with the current programs on Disney Channel, Bunk'd is based off of Jessie, with many of the same characters.  Jessie was a decent show in my opinion, but sometimes it was a bit too silly for me.  However, Bunk'd is surprisingly better with the addition of a few new characters who add more comedy and more drama even though they aren't the best actors.  Similar to Jessie, though, sometimes the jokes or the episodes go a little too far or are too unrealistic.  Therefore, even though it is tolerable to watch, Bunk'd should be nowhere near as respected as the older Disney shows.

Girl Meets World
After watching a few episodes of the spinoff of the former hit Boy Meets World, I can say that I am honestly impressed with this sequel.  This is undoubtedly the best current show on Disney Channel in my opinion, as it incorporates a life lesson in every episode for their young audience.  It is not only funny, but it also appropriately incorporates some of the aspects of Boy Meets World for fans who watched the original version also.  Finally, something that stood out immediately to me while watching was the excellent acting.  The cast of Girl Meets World, featuring Rowan Blanchard and Sabrina Carpenter, embodies their characters perfectly and enhances the show as a whole.  This show is definitely worth watching, as it is not only amusing, but also educational in several ways for the children watching.

Liv and Maddie
Liv and Maddie seems to be a relatively engaging show for kids from the episodes that I watched.  They feature a few jocular characters and scenes that make an enjoyable experience for the audience watching, while there is also a strong story behind them.  Their main purpose is not to be just a comedy, which is different from some other shows.  Liv and Maddie adds some drama within episodes that also make it more interesting to watch.  The only thing that bothers me about this project is the fact that they don't have actual twins playing Liv and Maddie.  Dove Cameron, who plays both girls, is a great actress, and she accurately portrays the characters well, but it still bothers me that she is the only actress playing two roles.  This distracted me from the actual episodes at times because I was often focused on the editing when the two girls were in the same scene.  The crew does a great job with making her seem like two different people, but I would still enjoy the show more if there were two actresses playing the main roles.

Bizaardvark
I don't even know where to start with this one; this is easily the worst on both lists.  It's almost as if Disney was trying to create a cheap remake of iCarly.  These two girls are Youtube stars, and the show brings viewers through their journey to becoming more successful internet sensations.  I tried to watch the first episode and got through only 15 minutes and had to turn it off.  Then, I figured I had to give it another shot, so I watched another episode from the show's first and only season.  Once again, after about 15 minutes, I couldn't do it anymore.  This catastrophe just isn't humourous, and there is no legitimate story line that hooks in their audience.  The only way that I can really describe Bizaardvark is a really, really bad show with a really, really weird name.

Best Friends Whenever
I started watching this with extremely low expectations when I found out that it was about time travel.  I expected it to be just another one of those corny, unrealistic shows that has no real purpose behind it.  I'm not going to say that my experience watching this was tremendously enjoyable, but it wasn't awful either.  I could see how watching this could be a positive influence on children, as the main characters travel to different time periods and teach the history from that time.  However, it still wasn't as impressive as some other old and new shows.  At times, the jokes didn't make much sense to me, and some characters got to be annoying after a while.  Nonetheless, it's not terrible, but it also just doesn't compare with the classic throwback shows.


After finishing watching all 10 of these shows, I have come to the conclusion that the new ones are not nearly as amusing as the ones that I grew up watching.  The jokes are not nearly as funny, the actors are not as talented, and the episodes are not as clever.  However, children may disagree with this statement since they are used to seeing these new shows just like the people of my age have grown accustomed to the old ones.  It is human nature to become connected to memories from childhood and want to hold onto them.  Many people try to grasp onto the things that remind them of easier, simpler times of innocence.  By letting go of parts of their childhood, people have to take a big step into a bigger, harsher world.  To return to the Miley Cyrus reference used earlier, most people have probably seen her epic performance that lead her into adulthood on the VMA's.  She fumbled into this new, unfamiliar place, and it took a while for her to get her footing.  This explains the fear that many young adults face of growing up too quickly and makes it understandable that everybody is a little bit scared of what their future holds.  Therefore, even though I don't see the new Disney Channel to be nearly as appealing as Disney Channel from before or in 2010, it could seem just as entertaining to children today, who appreciate these shows as a part of their childhood.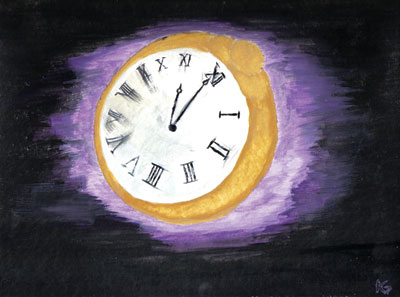 © Kyle G., Clarksville, TN