Teen TV Hits that just don't Click-- I relate more to Arthur the aardvark
January 28, 2013
It's Thursday night and you're favorite TV show is on. You planned your homework out so that you'd have enough time to watch; you're favorite type of pop corn was popped just right and you turn on the TV. Whether it's The Vampire Diaries, Pretty Little Liars or Gossip Girl, there is a certain appeal that pulls the teen audience every week, each week hoping beyond hope that the editor will have somehow read their minds and made and answered all their questions from the built up suspense.

It's something of an enigma how mesmerizing the designer clothes, flawless skin, and thrilling, adventurous lives somehow seem real to us in that one hour can be. It's time to reel us back to reality and land our feet on planet Earth to think about what we are really watching on TV.

Aside from the hypnotizingly entertaining reality TV, I could not connect to my friends' excitement after watching the latest installment of Pretty Little Liars. If you've had friends like mine, you'd understand that there was nothing more interesting to talk about between chemistry problems and lunch line-ups for that entire day. It was dark and stormy Thursday night that I stumbled across the pilot episode of The Vampire Diaries online, and I found that there was integral part of my DNA makeup as a sixteen year old girl that made me unequivocally and irrevocably addicted to teen TV.

But, like being in the matrix, I knew there was something wrong with the show, and I couldn't really put my finger on it. It was like eating a fluffy slice of cake for breakfast. I really needed more and I whole time, I think I was just trying to make the cake a meal and eventually I ate so much that I became sick. Doesn't that happen to all children? Unfortunately, it wasn't until I watched Boy Meets World, a TV show that I used to be forced to watch some ten years ago when my older cousins wouldn't change the channel, that I realized what I had been missing.

Boy Meet's World was real. It dealt with issues that I was dealing with; the characters seemed like people I could relate to, and nobody was really perfect. I found a reflection of myself in Topanga Lawrence especially in the episode when Topanga cut her hair in an effort to prove to Cory that vanity was not important, only to realize that vanity was a subconscious part of her as well and how she eventually learned to deal with it. I found a reflection of the problems I dealt with when Sean Hunter was lost looking for a place where he fit in. These were characters with weaknesses and strengths, were real; their problems familiar and the message always resonated with me. The truth is, most of our lives don't revolve around love triangles with hot vampires just pining for our attention.

If you look carefully, the TV shows that are on air today only show the 'high school students' going to school when there's a fight or a party. They meander around town with not a worry in the world but their super twisted plots. I remember a theme dance episode on The Vampire Diaries where Elena, the girl probably living on welfare money due to a lack of parent/guardian, found the most elaborate costume to wear to the party especially designed with the theme while I just thought about how my friends and I had made somewhat silly homemade costumes for a similar situation.

After getting in touch with reality a little bit, I looked at the TV shows that I had been warped into with a different perspective. How in the world did these kids pay for anything? Did they ever worry about things like body image, paying for university, studying for finals, getting a part-time job, not getting along with friends over stupid things, learning to swallow pride and standing up for their beliefs, struggling with fitting in, trying to understand their parents?

Although it seems as though killing thousand year old vampire serial killers, becoming a teen werewolf or even dealing with a serial killer among friends would be very entertaining ideas for teen TV, the idea is that it is not longer teen TV. Even Arthur (cartoon TV show) seems to relate to me more than The Vampire Diaries does. Even though Arthur is a nine year old aardvark while Elena Gilbert is a seventeen year high schooler with a younger brother, quite frankly, I relate more to the aardvark.

And I think that's very sad. With all their talent, budget and audience, teen TV can convey important messages to their widespread and open minded teen audience. Instead they use this precious one hour between shifts at work scooping ice-cream and finishing up history papers before babysitting to fill our heads with the idea that it's normal for a teenager to wear designer clothes and high heels to school, and that its normal not to care about anything but love triangles and gossip. Teen TV shows that show can deal with how a teenager deals with having a relationship with a vampire, discovering a murder of a friend, or becoming a werewolf, but the key word is teenager and not a person with a whole day to fill with nothing better to do, mysterious income, no parents/rules. I for one would like to know how a girl dealing with her parents' death, school, and dating a vampire can avoid pimples the whole four seasons.

I'd like to watch something real, something visceral, something that makes me think, something that makes me reflect about the choices I make and the opportunities I have.

It isn't so bad to just once in a while put the Cognito back in Cognito Ergo Sum.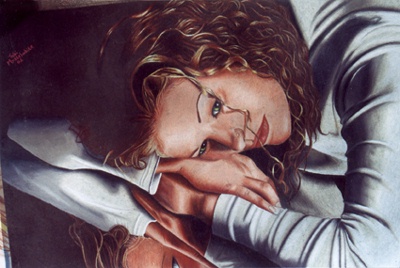 © Tabitha M., Kannapolis, NC