Summit on the Summit: An Inspiring MTV show
March 23, 2010
MTV is changing before our eyes. Not completely, but in a small yet powerful way.
Instead of creating yet another reality show, following the lives of no name, rich-for-no-reason young people, one show changed everything: Summit on the Summit: Kilimanjaro
Celebrities like Jessica Biel and Emil Hirsch, along with few singers, hike Kilimanjaro (the largest mountain in Africa) to help create awareness about the clean water crisis in Africa.
In the beginning of the show, Justin Timberlake spoke in an introduction where he stated that since so many of us take water for granted, he wants to not only create awareness about the issue, but also inform us in ways we can help.
Perhaps MTV saw how much darkness is in the world right now and wanted to insight it's teen viewers of way in which they can bring some lightness in.
One of the photographers on the hike said during the special, "we have really talented educators, actors, actresses, musicians, who are really, really amazing at what they do. But pull them out of their comfort zone and drop them at a mountain that's 19,000 feet high you can really see the people for who they really are and I've been totally impressed."
The hike itself is an immense challenge. As they ascend higher and higher, the hikers were constantly drinking water to keep their bodies hydrated. Emil Hirsch had an incident, however. During one day on the hike, he fell nauseas and considered heading back down the mountain. Later, he discovered it was merely an infected ingrown hair, showing that the simplest of things could cause the most damage.
The show demonstrated how strong the group was as a whole. No one stood stronger or higher than anyone else; they were all equals in this together. One hiker noted, "This group is hilarious. I don't think I've ever stopped laughing." After she said this, the hiking gang began to sing Queen's Bohemain Rhapsody, a song that can be deemed "universally known."
The show sublimely asks the viewers: would you be capable of doing this? How far would you go? One cannot watch this show and think about the answers to those questions. Despite the strenuous hike itself, you're ascending a mountain of 19, 340 feet in temperatures below 10 degrees Celsius.
The ending is definitely as powerful as the journey. It goes to show what human beings will do for one another, to help one another. And it times when the media splattered with depressing news, angry politicians, and setbacks, this special isn't out to change that; it's merely to inspire us to make the changes in the world ourselves, instead of waiting for them to happen.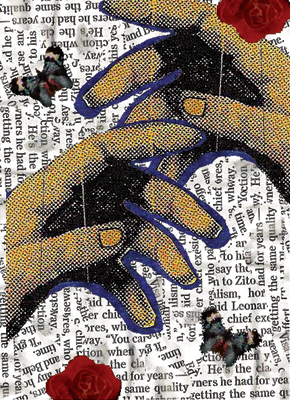 © Christine S., Arlington, VA