The Family Guy
MAG
Last Sunday I was genuinely excited at the thought of watching a TVshow on Fox. Most might think I mean the comedy "TheSimpsons." Although that is usually true, this particular SundayI was itching to see Fox's newest show, "The FamilyGuy."

I think "The Family Guy" will be the next hit comedy. Setin Rhode Island, it depicts a family not too different from thebeloved Simpsons. There are, however, a couple of interesting twists.Both the family dog and baby can talk. The dog serves as an advisor,while Baby Stewie is driven by the idea of world domination. Peter,the father, is similar to Homer Simpson in his blundering ways andthe mother, Lois, resembles the nurturing Marge. The two kids, a boyand girl, don't resemble the Simpson kids, which adds diversity whileminimizing the chance of a lawsuit.

"The Family Guy" targets a slightly older audience than"The Simpsons." The language is not vulgar, just moremature. The story lines and random flashbacks leave you in tears oflaughter.

All in all, I believe "The Family Guy" is here to stay. Itswitty humor and attacks on popular culture are guaranteed to ticklefunny bones. I highly recommend you tune into Fox next Sunday at 8:30for comedy's newest star.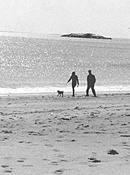 © Megan S., Marblehead, MA