Ordinary Days: Original Cast Recording • Adam Gwon
MAG
December 2, 2018
In the flurry of busyness encompassing our everyday lives, it's easy to take for granted what is simply there. We're always searching for excitement, for opportunity, for action. We're always rushing to get from one place to the next, from the subway to the college campus, from your apartment to your girlfriend's, from Starbucks to school. But the musical "Ordinary Days" – music and lyrics by Adam Gwon – allows us to sit back, relax, and to take in the present, the space in between the busyness. Gwon's brilliant musical paints a beautiful picture that reminds us to appreciate our everyday journeys.
The musical follows the stories of Deb, Warren, Claire, and Jason – four characters, two storylines, masterfully linked through their experiences in New York City. Deb (voiced by Kate Wetherhead) is an ambitious girl with soaring dreams. She runs into Warren (Jared Gertner) after he finds her notebook filled with research for her graduate dissertation. An eccentric yet laid-back character, Warren helps her look beyond the big picture and appreciate life as it is.
Meanwhile, Claire (Lisa Brescia) and Jason (Hunter Foster) struggle through the ups and downs of their relationship. Claire is hesitant to open herself up to her boyfriend after a past heartbreak, leaving Jason wondering whether he is the right man for the girl he loves. These four character arcs are subtly interwoven starting from "Saturday at the Met," but their stories merge together in the musical's breathtaking climax, "Rooftop Duet."
Compared to other musicals, "Ordinary Days" has a relatively small cast of just four actors. Its profound, yet easy-to-follow plot and its immensely relatable characters makes this musical a perfect soundtrack for all ages (though parents should be warned that our hotheaded Deb drops the occasional swear word). I couldn't recommend this musical enough. From Jason's upbeat tune in "The Space Between" to Deb and Warren's whimsical encounter in "Sort-Of Fairytale" to Claire's heart-wrenching finale "I'll Be Here," the brilliant vocals matched with the stunning piano accompaniment will leave a memorable imprint on any listener's heart.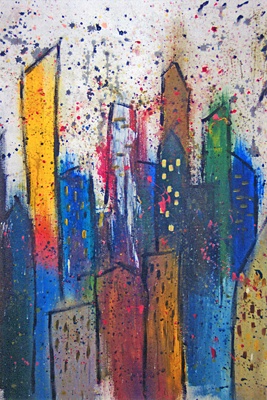 © Chase C., Centerville, OH