Miracle Season
April 11, 2018
Imagine one night playing a volleyball game, and having a party with your friends. Out of nowhere, the worst thing imaginable happens. In the movie "Miracle Season," that's exactly the case. Caroline Found, known by her friends as Line, died unexpectedly after her post-volleyball game party.
Line was the captain of her volleyball team. She was the starting setter of her team and, known as the "quarterback" of the team. Her mom had cancer, and she wasn't expected to make it through the whole volleyball season. Unfortunately, Caroline died before her mother. Sadly, her mother passed away only 12 days after. Line died in a moped accident late one August night, meaning her volleyball team had to finish the season without her. The movie shows the team's remarkable road to state for the second year in a row.

The movie was one of the best movies I've seen in a while. It was easy to relate to because many girls play sports, volleyball in general. It made the audience feel multiple emotions. Throughout the audience is left feeling sad, happy and nervous.

You will experience sadness because of Caroline's death. Her death was very unexpected and no one saw it coming. She was only 17, and never got the chance to graduate from high school. It's terrible to think the father of Line, and husband of Ellyn lost two loved ones in a matter of two weeks.

You will also feel happy because at the beginning of the movie, you are able to see Caroline's fun and easy-going attitude. She was shown shoving pizza in her mouth, and running around town with her best friend hanging volleyball posters. Caroline was enjoying life with no regrets. Line was said to always be smiling and having fun. This is why many people in her community bought shirts that said, "Live Like Line" after her death. Happiness was also felt when the team was able to win the championship game. It was a great way for the season to end. Even without their star player; they won the championship.

Those who watched felt nervous, because at first the girls on the team didn't want to play without Line. It made us anxious to think there would be no volleyball season. When the team finally started to win; it was nerve wrecking, because no one knew if they could make it to state. At the end, no one knew the outcome. That also made your stomach turn.

If you want to see a feel-good movie about girls facing odds, overcoming devastations and coming together as one. I highly recommend the movie "Miracle Season." The movie gives a whole bigger meaning because it is based on a true story. Go out and watch it with friends, family, or even your sports team. It's well worth your money.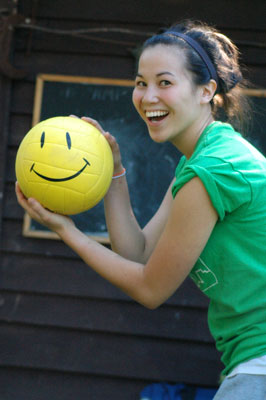 © Masaleen O., Palatine, IL