Baby Driver
April 8, 2018
A talented young getaway driver gets more heist than he bargained for.
Ansel Elgort, perhaps best known for his role as a star-crossed lover in The Fault In Our Stars, is Baby, and yes, that's his name. The suave, baby-faced hero grew up in an unhappy family, with a father who abused his mother until they landed in a car crash, and Baby emerged with tinnitus, a ringing in his ears he drowns out with killer tracks. And the tracks are pretty sweet, ranging from funky waves, hard rock, to classic jams from '80s. The songs animate Baby, and at points appear to possess him, but most importantly, inform his driving: Baby skids to the beat, miraculously jamming his team in and out of incredible squeezes. But Baby keeps shrugging off the words of his foster father, who signs he doesn't belong in this world. Baby brushes it off, promising this job will be his last. But the film relays the truth about drugs, gangs, and other dirty business--once you're in, it's hard to get out.
Baby is the likable hero, smooth, or silly, and above all, decent. Time and time again, when the chance comes to kill, he's struck and quiet, preferring to stun or bruise. The rest adds dimension to what could have been flat, predictable characters--Lily James is Baby's witty, fearless love; Jon Hamm is Buddy and Eiza González is Darling, generally trustworthy villains, until you get on their bad side; Kevin Spacey, now disgraced by sexual harassment allegations, is Doc, the no-nonsense boss with a soft spot for lovers; and Jamie Foxx nearly steals the show. As Bats, he's extraordinarily charismatic, commanding, as a paranoid, trigger-happy man who double-crosses anyone who double-crosses him.
Edgar Wright's crystal clear vision guides the movie. Wright describes he had the movie in his head for about 20 years, and it's drastically different from other films he's done. Baby Driver has the traditional appeal of an action movie, fun for its bumps and thrills. But like the hood of a fancy car, it's coated in specific style. It respects cinema as the auditory, visual art it is. Music is a character of its own in the film, and the easy coordination between beats and action scenes makes the film feel fresh, original.
And it's just a fantastic story, which is why it will stay on the shelf. A funky, grooving masterpiece, it's the story of a kid who learns, as heist gets messier and redder, that he doesn't really belong in "that world," and when he does, that he has to get out as soon as he can. The story has real meat to it, as consequences become real, and Baby comes of age. It's smart like highway trails, crossing and looping again, as enemies become friends and enemies again. Baby, drive us to the moon.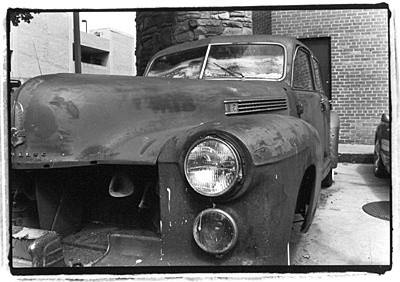 © Jessica T., Bethesda, MD