the elephant man
January 30, 2018
The movie "The Elephant Man" is a very heartfelt movie. A victorian surgeon rescues a heavily disfigured man named John Merrick, who is mistreated while scraping a living as a sideshow freak. Behind his monstrous facade, there is revealed a person of intelligence and sensitivity.
For many years it was thought John Merrick, widely known as the Elephant Man, had suffered from type 1 neurofibromatosis. Treves presents Merrick to his colleagues and highlights his monstrous skull, which forces him to sleep with his head on his knees. If he were to lie down, he would asphyxiate. On Merrick's return he is beaten so badly by Bytes that he has to call Treves for medical help.
Treves brings him back to the hospital. During the time that Merrick was with Bytes he was never able to actually have a conversation with him because Bytes didn't view John as a human being. In the eyes of the public he was a freak, an abomination.
Treves teaches Merrick to speak but is astonished when learning that Merrick could actually talk. Merrick's face is so badly disfigured that while his ideas that he wants to communicate are exceptional, his speech is compromised by his disfigurement and he is not able to be understood.
  After being found Merrick recovers some of his health, but is dying of chronic obstructive pulmonary disease. The coordinator kidnaps Merrick due to the coordinators idea that since Merrick has been in his "care" for so many years that Merrick somehow belongs to him. So Mr. Bytes takes John to France to again show him off to the world because he is a "freak." During John's viewing he collapses and goes unconscious.After gaining consciousness John is thrown into a cage with a bunch of monkeys.
The others see John scared and terrified in the cage and rescue him. They give him the money that they received from their acts to buy him a ferry ticket back to London. When he arrives in London he is ambushed by a bunch of people. He cries, "I am not an elephant! I am not an animal! I am a human being! I ... am ... a ... man!" before collapsing.
The police see the huge amount of people crowded around in the bathroom to see Merrick curled up beside the urinal.They help him up and bring him back to Treves.
Treves is so upset that John was gone that he was depressed for a while. When he heard that John was back he hugged him and didn't let go for a little bit.
John wished to sleep like normal people. So he removed the pillows from the bed, placed them on the table nearby and fell asleep.He suddenly passed away thereafter.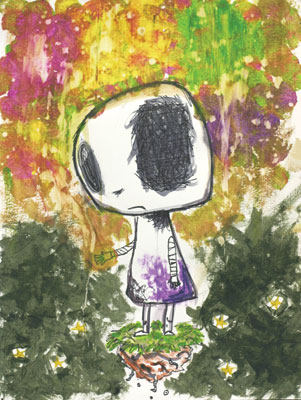 © Ashley W., Port Charlotte, FL