Spider-Man: Homecoming
January 25, 2018
This is a disclaimer: This article WILL contain spoilers to the movie Spider-Man: Homecoming. If you wish to watch the movie yourself, then do not read this review.
"Just a typical homecoming on the outside of an invisible jet fighting my girlfriend's dad," said Spider-Man. This quote is my favorite from the movie. In this movie, Your Friendly Neighborhood Spider-Man(Tom Holland) is back in action trying to track down Vulture as the Vulture is selling bootleg weapons. Peter Parker finds himself also trying to find a balance between himself and his alter-ego, Spidey. "Spider-Man: Homecoming" has a well designed setup and plot. It also has superb acting that makes the movie's comedy. "Spider-Man: Homecoming" is an appealing movie to all ages for the action, humor, and overall plot.
The first major thing about this movie is the design. Its plot line does what I believe no other movie could do. It has a way to drop in subtle hints for other movies in the MCU (Marvel Cinematic Universe), and definitely make more theories and rise more questions. The visual effects personally blew me out of the water. Now, I like a lot of superhero movies, but this movie stood out visually. There were a few secrets into making such superb effects. According to Jordan Zakarin on July 18, 2017 from www.inverse.com, Tom Holland is athletic enough to capture his flips, twists, and leaps, as well as model full CGI characters. They also need to assemble everything together to see what it looks like from all angles and move them in real time. This is a very hard task. They had to use 3D compositing software; For example, they had to shoot multiple angles of the beach scene at the boardwalk while everything was on fire. From there, they can manipulate the scene. The Spider-Man outfit was very interesting. The updated suit has many new features, such as Karen, an artificially intelligent system to aid Spider-Man, a heads-up display embedded in the eye lenses, a reconnaissance drone, as well as gliding and parachuting abilities. The suit was also monitored by the Stark Industry Training Wheels Protocol, a program designed and installed into the suit by Stark to restrict certain actions, as well as the Baby Monitor Protocol, which tracked and recorded everything through the eye lenses.
While watching and analyzing the movie, there were some let downs that I believe could improve. The main thing that is a large part of the Marvel Universe is that Iron Man helps Spider-Man with giving him an opportunity to show himself as a superhero in the movie Captain America: Civil War. Tony Stark (Iron Man) doesn't show up too much, but when he does, it makes the story a lot weaker. It almost feels like it's another Iron Man movie. He's always there to fix Peter's mistakes or save Peter. Instead of having Tony play a big role, have Spider-Man fix his own mistakes. This way Tony is still a part of the movie and Spider-Man has a stronger part in the plot. Another thing I noticed while finishing the movie was how pathetic the ending was. Throughout the movie, Peter always talks about how cool it was to be an avenger and how he would like to become more than the friendly neighborhood Spider-Man. Right at the end of the movie, Peter is presented the offer to head out as an avenger. He declines the offer, and that was kind of disappointing to me. If Spider-Man would've accepted the offer, they could build a lot more off of that in the next movie.
The next and possibly the most important part of the movie is the characters. There are so many main characters in this movie, it really affects the whole plot line in an impactful and positive way. Ned, Peter Parker's best friend, plays a really big and important role in the movie. He makes it one of those stereotypical movies that always has a guy in a chair communicating with the hero, and that's what makes it unique. He also gives Peter another outlet for help, In the original Spider-Man movies, they relied on Peter always being in love with Mary Jane Watson and he didn't have a real friend to go to. By giving Peter a close friend, the movie can then keep the romantic aspect as well as give him a go to friend. It really was a good choice to make. The next thing that the characters do is they try to give comedy. I know that sounds ridiculous for an action movie, but this movie has the right amount of comedy to mix in with the intenseness. The last part and the most intriguing part to the movie was definitely the connection between Liz, Peter's crush, and the Vulture. At the beginning of the movie, the hints were subtle. As the movie progressed, the plot became a little bit more obvious. The Vulture gets a ton of money, and their house is really big and fancy. The connection I see makes a lot of sense for the plot. It really threw me for a loop.
"Spider-Man: Homecoming" is a well made movie for the modern age. We people today like explosions, suspense, twists, etc. This movie covers it all. There were a lot of differences from this movie compared to Spider-Man 1, 2, and 3. I believe the crew did an outstanding job at analyzing, revising, and then building off of their mistakes to make the marvelous movie that came out on July 7th, 2017. This movie has really met the public's standards, and that's what matters. There was another terrific quote that stood out to me in this movie; "If you're nothing without the suit, then you shouldn't have it." -Tony Stark. This quote really shows us that we can't always rely on stuff all the time in our daily lives. We need to build ourselves up and make ourselves stronger. This movie can do more than just appease the audience and make them happy; it can hopefully inspire others. So, will Spider-Man make an appearance in the upcoming movie, "Avengers: Infinity War" in 2018?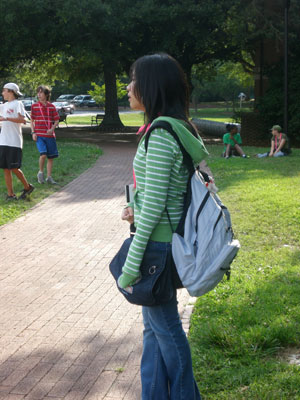 © Lucienne B., Parkland, FL