The Murder on the Orient Express
January 25, 2018
WARNING: Possible Spoilers Ahead
When I think of a train ride, I usually expect everything to go smoothly and according to plan. Well, that isn't exactly happened in "The Murder on the Orient Express". With all honesty, I did not want to watch this movie. I went to the theater with my family as a birthday present for my brother, and I begged my mom to let me watch something else. As of today, I'm blissful that my mother dragged me inside. The scenes were terrific, the storyline was unbelievably stunning, and above all, the characters were portrayed wonderfully by the actors and actresses. My favorite character would have to be Mary Debenham (Daisy Ridley) because it was as if she had already played this role before. She presented her feelings, her movement, and her speech with such grace and etiquette. Basically, if her character needed to do something, she did it precisely how it needed to be.
The settings in this movie are absolutely breathtaking. The music boosts the excitement, fear, love, or humor, which is a big part of what makes this movie so great. Sometimes, there are scenes I didn't quite understand until later when it all seems to come together. The beginning of the movie was a scene with a little boy running in Malta carrying two eggs that he received from a hen. He gives the eggs to a chef who serves them (after cooking them) to a rich man, who sends them back because they aren't even in height. This happens multiple times until we finally see the man's face, revealing it to be Hercule Poirot, and says to the chef and the boy,"I cannot blame you, it is the chicken's fault, no?"
What this movie is about, is that a man named Hercule Poirot (Kenneth Branagh) is a perfectionist, which makes him the greatest detective. Hercule solves crimes in his town because he can see when the slightest thing is out of place. He has been asked to board the Orient Express by Bouc (Tom Bateman). He accepts, but when an avalanche causes the train to come to a halt, a murderer takes advantage and kills a man named Ratchett (Johnny Depp). Now, Hercule must interrogate the twelve adults on the train, for everyone is a suspect. This plotline gives backstories and sudden thrill, but they could've been paid more attention to.
Since this is a murder mystery, there were clearly backstories. I feel that they could've been improved, for they were only portrayed in black and white with little sound and the character who was telling the story as the narrator in the background. I'm not saying that it was bad, but it was a little difficult to follow at times. I got lost frequently, so I had to ask my dad what was going on a few times. Another thing that could've improved would have to be the thrills. There was only one decent thrill in the film, which was where someone had stabbed Mrs. Hubbard (Michelle Pfeiffer) with a lengthy dagger. There were so many opportunities in this film where thrill could've been enhanced. The directors and producers were obviously trying to add some kind of thrill, and at times it was irrelevant, and other times it was weak and pitiful.
Even though this movie had a couple flaws, it was one of the best I have seen. There was heart, action, mystery, and humor, anything needed to make it a great movie. As I watched the film, I got confused at times, but most scenes draw me closer. The ending is amazing; it concludes everything and all the questions that were asked as it went by were finally answered. I haven't been on a train ride in over five years, but believe me, it was nothing remotely close this exhilarating film.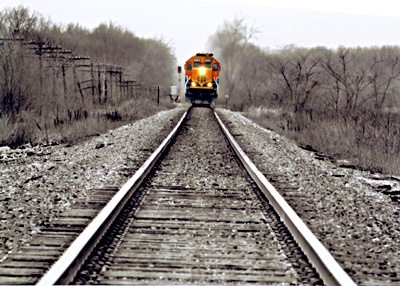 © Matt D., St Peters, MO