Save the Last Dance
November 16, 2017
Is watching movies your favorite thing to do?
There are many types of genres such as horror, drama, historical, romance and more. Movies are for entertainment. I was very entertained watching Julia Stiles as Sarah in the movie 'Save The Last Dance'. She's an very impressive actor, actually one of my favorite actors. Her emotions through the movie was very strong, like they we're real.
In the film 'Save the last dance' directed by Thomas Carter, released January 12th, 2001. There was a girl named Sarah Johnson, who lived in a small town called Midwestern. She loved ballet she spent most of her life training for her career. Her dream was to get into Julliard ballet school, But one day her mom died in a car accident on her way to her audition she promised Sarah she would attend, and after that Sarah gives up on ballet .
She was then forced to live in a town full of poverty with her father she's never really been around, she get's transferred to a black high school where there's very few whites. Then she becomes best friends with a girl named Chenille who shows her around and introduces her into some friends. Later Sarah falls in love with her bestfriends brother Derek. They share a love for dance(ballet and hip-hop) he changes her life that she thought was over. He helped and guided her leading her to a 2nd audition for Julliard ballet school, and she gets accepted. It was not easy for Derek to get Sarah back to doing ballet it took time and effort they struggled, through breakups fights and arguments.
This Drama/ music/romance movie works because it is very compatible to teenagers in life today. There is teenagers who's going through what Sarah and Derek went through. Such as losing their mom, being in gangs, hanging around the wrong crowd and relationship conflicts .
In the movie Sarah says "what i want is to wake up and see my mom again where my life made sense, but it's not going to happen it's all my fault". When Sarah said that it showed her emotions that she's been hiding since her mother's death. Sarah played that part very well i felt everything that she was saying, it was as if it was real. The director did a very good job with this movie, I don't think anything should be changed. I like how he got her to fall in love with someone who likes doing something similar as her (dancing) and gets her back into ballet, even though she did not want to because of what happen to her mom and she felt like it was all her fault.
In conclusion 'Save The Last Dance' is an inspiring movie to me, i recommend this movie to anyone who's having trouble because they lost a parent, or if you're in a situation you feel like you can't yourself out of, or even if you have no problems it's still a good movie to watch and enjoy and learn from!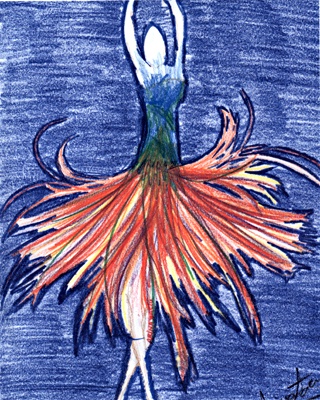 © Arina Z., Euclid, OH