National Lampoon's Christmas Vacation Review
November 21, 2016
National Lampoon's Christmas Vacation Review
National Lampoon's Christmas Vacation is a movie about a husband, Clark Griswold (played by Chevy Chase), who just wants to have the perfect old fashioned family Christmas. Clark's family - wife Ellen, daughter Audrey, and son Rusty - is gathered in their small house in Colorado with Clark's parents (Nora and Clark) along with Ellen's parents (Francis and Art). As a surprise to Clark and Ellen, their hick cousins, Eddie and Katherine, (played by Randy Quaid and Miriam Flynn) come to the house in their beat-up trailer.  They bring their two children, Ruby Sue and Rocky, to stay for the already stressful holidays. For Clark and his family, this Christmas is panning out to be one of the most chaotic ones yet. As if it couldn't get any more stressful, throughout the movie Clark is patiently waiting for his usual Christmas bonus that he needs in order to cover the down payment on a huge surprise gift for his family.
If you and your family want a hysterical fall-off-your-seat-laughing movie, I definitely recommend this National Lampoon's Christmas Vacation. It realistically depicts spending the holidays with family and you'll enjoy the fact that it's not all "sugar plums and reindeer".
There are many parts of this movie that allow it to all come together. The music choice is perfect. Between "Christmas Vacation" starting the movie off with a good steady pace and "Here Comes Santa Claus" during one of the more chaotic parts of the movie, the music perfectly sums up the plot.
The movie is divided into several parts. In the beginning of this story, it is about the whole family getting together and facing obstacles, like the happy-go-lucky family you think they will be.  In the middle of the movie you start to see the happily dysfunctional and crazy side of the family. Personally, this is the part of the movie that I can relate to the most. In one scene Clark walks down into the living room and cousin Katherine is trying to serve breakfast to the four loud children.  All four grandparents are arguing and debating and it's pure chaos.  This basically sums up Christmas in my house and I'm sure it can for many of you.
Towards the end as they are getting everything ready for Christmas Eve, you'll see the family as their zaniest versions of themselves.  As if getting everybody together to sit down and eat Christmas Eve dinner wasn't stressful enough, just imagine it when you add two elderly relatives, a cat, and a squirrel!   As things get crazy they also become calm. Here, the family is truly grateful for what they have but also coping with it in their own dysfunctional way. At the end of the movie, be prepared for a major plot twist that brings the whole family together!
This film is about coming together as a family, accepting that each family has their own brand of crazy, and embracing it. After watching this movie, my family realized that we are not the only ones whose Christmas ends up nothing like we planned and I'm sure that you will too. If you need a movie to get you in the Christmas spirit, I highly recommend this farcical comedy that will have you laughing the whole time and provide you with a warm sense of appreciation for your own family's craziness.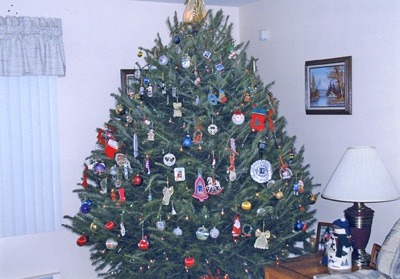 © Brian N., Mildford, CT