Ang Tanging Ina
September 20, 2014
I was guided.  Molded and taken care of.  Given the privilege to grow within the comforts of a family.  I was being prepared.  Taught of the simplest rules in life.  Warned of the limits and boundaries of living.  I was valued.  I was protected.  I was loved.  Selflessly.  Endlessly.  Like no other relationship in the world, this is eternal.
My mother would always tell me I am the most wonderful creation of all.  I, having no sense of awareness yet, would believe and get awed by the many fascinations.  She is very positively assertive.  She knows how to put things straight, do tasks accordingly, and at the end, smile in relief like there aren't any hardships.  She has this own way of making me feel happy when I am sad, and making me even happier when I'm already smiling.  I would wait for her to prepare my glass of milk, and to sing me a lullaby before I sleep.  This time, I was in her arms.  Held carefully as if I were a piece of fragile material.  I felt special.  And from then on, I already knew that feeling they called tender and gentle.  It was a mother's love.  Maternal.
Having watched numerous movies about family, comedies, good times, and the like, I had these feelings of gratefulness, honor, and guilt.  One movie I can point out is "Ang Tanging Ina" by Wenn Deramas.  It is a total series of ups and downs a mother can experience in life.  It emphasizes the love a mother has for her family.  The movie greatly revolves around the many responsibilities and duties a mother has to get involved in to sustain a living.  Ina Montecillo was able to go through these all.
Ina Montecillo, like any other parent, is a hardworking mother who, despite her shortcomings, dedicates everything she does to her family.  She is a mother of twelve children, and a wife of three men.  Shortly in between every man's transition, her husbands died one by one.  This part of the movie is in a way corny, but very possible.  Like any other family, Ina's family was not that unique.  It had happy times and it had conflicts.  The conflicts outweigh the happy times, though.  There are many instances in the movie where the family's bond loosens up.  Problems were usually brought about by the commonest details.  Financial concerns.  Relationships.  Personal differences.  But these weren't enough to totally untie the bond of the family.
The climactic part of the movie arises when one of Ina's children disappears.  He goes missing.  It is a very depressing state for a mother like Ina, having been through consecutive family problems.  She did feel low, but she never gave up.  She came close to letting go, but she took a firmer stand.  As she was riding a bus on her way home, she eyed a suicide bomber just in front of her.  With all these innocent people in the bus.  All these innocent lives.  Well, what would a strong mother do?  What would an Ina Montecillo do?  Eventually, she saves the passengers but suffers injuries.
I would do the same.  I would look at all the people in the bus and treat them as if they were my own children.  That is maternal love.
Ina was brought to and admitted at a hospital where her children mourned a corpse, mistaking it for her.  There, they had a familial conference.  A time to pour out their emotions for the family.  That moment was a time for conflict resolution.  The children apologized for all their hard-headedness, and in return, Ina apologized for her insufficiencies.  A mother wouldn't let anything hinder her children from achieving and doing good.  That was Ina's principle.  She did everything for her family.  She made her children feel love.  Eternal love.
The movie was unlike any other Filipino movie.  It was solely focused on making us, teenagers, understand the importance of having a mother.  I like how they portrayed the image of mothers nowadays.  Despite being often vegged out by their work and becoming tired and idle, they stand up firmly and make an ovation.  They are strong, independent, courageous, and loving.  A mother is fit to be called an ideal person: worthy of being loved back.
Mothers.  Our mothers.  They tend to become overprotective and very supportive.  They usually get into our nerves and make us feel uncomfortable.  We, most teenagers, sometimes think that we are independent enough to go on in life by ourselves.  That we are capable of making decisions for our good.  We turn our backs on our mothers.  We sometimes feel that they are something to be ashamed of.  But this is where we are wrong.  I know because I am a teenager, too.  I've been embarrassed because of my mother.  I have gone through times when I talked back to her.  And there have been instances when I disobeyed her command.  I regretted those moments.
Mothers are mothers.  They deserve our respect.  Our time.  Our love.  As quoted by Rudyard Kipling, "God could not be everywhere, and therefore he created mothers".
It is not every day that we get to spend time with our mothers.  It is not every day that we get to say goodbye to them as we leave for school.  It is not every day that we get to help them wash the dishes in the kitchen.  But it's in every day that we get to feel and give back an endless feeling of tenderness and sympathy.  It's a mother's love.  Maternal.  Eternal.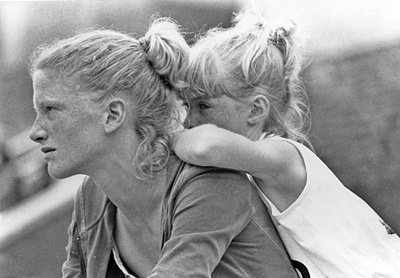 © Felicia F, Marlow, OK