School of Rock
April 12, 2014
Everyone has those favorite movies that somehow find their way into every conversation in the weeks (and sometimes years) after their showing. Usually among these favorite movies is at least a couple of of comedy movies. Who doesn't love a good laugh? If you have to identify yourself who does not enjoy laughing you have my condolences. As for the rest of us, laughing provides an easy escape from the difficulties of our society. I won't go into the details of our cultural problems (I'll leave that to dystopian fiction) but everyone needs an outlet. Comedy happens to be one of the more popular ones.

Going to back to movies that never get old, I recently plugged into the ever popular School of Rock. This film was made quite a few years back, but the themes are still very applicable to the world today. The most prevalent of these themes is that of "stick it to the man." "Stickin it to the man" is reasonably synonymous with rebellion and describes the natural urge to disregard the control of "the man" to the furthest extent possible. In addition to rebellion this film has another important theme: if you love something don't give it up! Jack Black's character Dewey is a washed up wannabe rockstar who can't pay his portion of the rent because his band doesn't make enough money. But he loves the music and refuses to give it up. This theme appeals to people because the center of our endeavors often point to what we love the most.

While School of Rock is quite formulaic as a movie it is still a very well acted film. Jack Black does a superb job of drawing laughs with his infinite weirdness and kids are unbelievable. This movie does a great job of getting the audience excited about the characters and somehow maintains relative masculinity while being a definite feel good movie. School of Rock is definitely an A plus.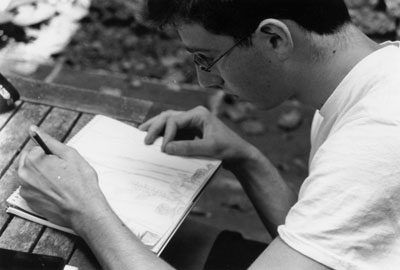 © Kira L., Bethesda, MD