Perfect Sisters
July 4, 2012
I had the opportunity to view a pre-screening of the new movie from JuliJette Inc. called Perfect Sisters, starring "Little Miss Sunshine's" Abigail Breslin, Georgie Henley from the Chronicles of Narnia and Mira Sorvino.

This film, directed by Stanley Brooks, is based on a true story about two Canadian sisters who, in 2003, drowned their mother in a bathtub.
I think the biggest question I had was: whose point of view would it be told from?

Would they show it from the mother's and later her friends' side? Or maybe show it from the sisters' point of view.

When the movie opened with the older sister Sandra [Abigail Breslin] narrating: "For as long as I can remember it has always been my sister and me against the world."

I think I just got my answer.

Though I quickly learned that this isn't just a story about a murder, it's really the story about a broken family. The sisters has just moved to a new town together with their mother Linda [Mira Sorvino] and half-brother Bobby, the mother is looking for a fresh start and seem to be an alcoholic that really tries her best to get sober.

While the older sister (Sandra) seem to have some faith in their mother and is really trying to be positive about the whole thing, her younger sister Elizabeth – that goes by Beth – [Georgie Henley] seems to be fed up with her mother's attempts to become a caring and hardworking mother (it seems that she has tried several times).

Sandra is the caretaker of both her younger siblings and her mother while she continues to hope for a change, Beth knows a change is unlikely to happen and often let Sandra take care of their mother while she looks after Bobby. But it's rather clear that they do not want to be the parents, to grow up so quickly (they're only 15 and 16). They often fantasies about a mother who is able to take care of them and buy them nice things.

When their mother loses her job she finds a boyfriend that is all but decent. He physically abuses Linda and Bobby and is sexually abusing Beth.

One day in school Beth explains that if their mother where to die, both she and her sister would receive a huge amount of money. The whole plot about killing their mother is in motion but is just seen as a sick little joke among them.

When the abuse becomes too much, the girls take a turn and all their fantasies are suddenly viewed as real way out. In their head, the only way to stop the life they're living is to get rid of their mother, who – in their eyes – is the source of the problem.

With the help of two of their friends, the plan to really kill their mother begins.

When I watched the movie I couldn't help to think that the performance of Abigail Breslin reminded me a lot of her role in "My Sisters Keeper". She is a caretaker when her mother isn't able to provide for them. She seems the most remorseful towards the fact that they had killed their mother. She starts to party, dressing in revealing clothes and sometimes let it slip that they killed their mother. Breslin shows that she has a possibility to act both calm and – for the lack of a better term – hyperactive and crazy, these are not bad things. I remember an interview back when Breslin's movie New Years Eve came out and she was asked what she thought about flashing her bra on-screen. That was just a few seconds, while in Perfect Sisters she shows no modesty, not necessarily a bad thing either. She really pulled off what I expected Sandra to be, a crazy (wild) girl that really wants to be noticed for the things she do. Some scenes where she was supposed to act frustrated could sometimes feel a bit forced or late (that she reacted slowly) but nothing that really bother me.

Georgie Henley played the younger sister Beth and I can tell you right now, she is not the little girl from Narnia anymore. She, who played Lucy Pevensie, a rather bright and happy girl, now transformed herself to a negative girl who had problems believing that things could change for the better. Henley's character is in the beginning more enthusiastic about the plan to kill their mother than her sister, it is she who makes jokes about it with their friends and doesn't really take the whole thing seriously. Henley's performance in the movie really shows that she is capable of playing other roles and not just that cute little girl who found Narnia. When I first saw her I hardly recognised her and her British accent could hardly be heard. I think this is going to be a break through for Georgie's career because this really shows what she is capable of. Because what I saw on the screen wasn't the actress Georgie Henley, it was Beth the girl who had just helped murder her mother.
The acting between the two girls were so powerful, they really acted like real sisters. There is a scene is the movie where Sandra and Beth are suppose to be separated, which is worse than death for these two girls since they promised to always look after each other and never be apart. The girls reaction were so real that for a moment I thought they where going to break the arms of the men that were holding them back. They screamed for each other and it was so real. That was the part in the movie where I thought I was going to cry. You feel sorry for the two girls, which isn't wrong even if they are murders. You watch them in the beginning asking yourself "why would you kill your mother?" but over time you start feeling for them because they only have each other and now people are trying to break them apart.

It's not just a movie about a murder; it's a movie about family and sticking together.

The reason why it's not a bad thing to feel sorry for them, even if they are murders, is that since the movie is told from their point of view, they become the victim in a way. It's not like you're going to sit there and say: that's what you get.

In my personal opinion this movie is not for those younger than 15! The foul language (that really exits in many conversations through out the movie) and the sexual themes are really not something to be taken lightly if you have a problem with themes like this. The smoking or drugs and cigarettes also happen on a regular basis so I say again: if you are younger that 15 and sensitive about these things, you shouldn't see it. If you can't handle themes like this and you still are 15 or older I suggest that you don't watch the movie until you can handle it. It's not to be taken lightly.

But I'm thinking that fans won't be disappointed in this new movie with Georgie Henley and Abigail Breslin. I can say myself that this is the best film I've seen in awhile.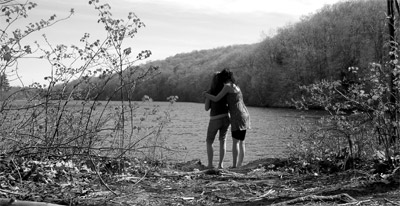 © Paige B., Woonsocket, RI