Top 10 Favourite Studio Ghibli Films
May 1, 2012
I love Studio Ghibli. It's one of my favourite animation studios and its created not only four of my favourite animated movies, but two of my favourite movies of all time. For Miyazaki Mania I got to immerse myself in these wonderful films again and with one exception, I found something to love in all of them. Now, before I start this list I have to say, I haven't seen the Ocean Waves, Pom Poko, Porco Rosso, Whisper of the Heart or Only Yesterday. And from what I've heard all of those films are probably good enough to make it onto this list. I'm just going off the films I saw for Miyazaki Mania, and if you want to hear my full thoughts on these films almost all of them have reviews posted up. That being said: Let's start off.

Number 10
My Neighbours the Yamatas
Now, for those who have read my review of this film, you're probably wondering why I put this on this list considering that overall it was a very negative review. Well, to be honest, I think I went into that film with the wrong mindset. My Neighbours the Yamatas really is a film about the small ups and downs of life. And the film itself really does work a lot better if you go in with that mindset. And when I really think about it a lot of scenes in My Neighbours the Yamatas captured that perfectly. That being said, this film is way too long, and after a while, the fact that absolutely nothing happens in this movie leaves one with a sort of empty feeling by the end. Still there were some genuinely great scenes in this fillm. Some funny, some touching, and overall I think this movie is worth a watch.

Number 9
Howl's Moving Castle
Howl's Moving Castle is gorgeous. Literally, every scene is a marvel to look at and out of all the movies on the list, this has some of the best animation by far. That being said, I think this is the weakest film on this list. I don't think the characters are anything special. I don't think the story is anything special. I think this is overall just an OK film. But for me what saved it is the huge amounts of love that was put into this movie. You can just tell that the animators, the writers, the directors all loved what they were doing for this film and it really shows. This film is so freaking enjoyable because of that, and though I think it has many many problems, I can't deny that this is a film where the effort put into it is what makes it so good.

Number 8
Ponyo
Yup. Ponyo's on this list. What can I say? The animation is beautiful, The characters are memorable and Ponyo is just freaking adorable. I'm not going to act like this film doesn't have problems. Of course it does. But I loved seeing this movie because it's impossible to be in a bad mood while watching Ponyo. There's this aura of happiness that just emanates from this movie that is so great, and I think it's why Ponyo has become one of the better known Miyazaki movies. The story itself is an interesting twist on The Little Mermaid. And though I think it's blown out of proportion a bit, I still can't deny that there really is a lot to love about this movie.

Number 7
Castle in the Sky
I know a lot of people will be sad that this isn't higher, but I want to make it clear that this isn't like the other films I've talked about where I put them so low on the list because I thought they had problems. There just happen to be six other movies I love more than Castle in the Sky. That being said – I love Castle in the Sky. The world they create is fantastic. The characters they create are fantastic. And the subtleties that the film throws in are so delightful. The story itself I've seen done before, but this is one of the better versions of it ending in a finale, that, all things considered, is pretty dark compared to the other films on this list. This is just an all round great film and I would definitely recommend it.

Number 6
The Cat Returns
This film is the very definition of enjoyable. I had fun watching this film from start to finish. Part of it is the fact that this film flies by. It knows just how long to hold a scene; just how long a silent moment needs to last; and, when it is fast paced, it's intense. The main character isn't anything fantastic, and it is the supporting characters that make this movie. Mura and Toto are great and I enjoyed every second they are on screen and Baron is possibly one of he most awesome characters I've ever seen in an animated film, which is saying something considering he is a toy cat! This film never has a dull moment. It keeps your attention the whole way though - either because it is funny, awesome, or unbelievably weird.

Number 5
The Secret World of Arrietty
That's right. I put Secret World of Arrietty in my top 5 Miyazaki movies. Why? Because I love everything about this movie. I love the concept, I love the animation, I love the story and above all – I love Arrietty. This is a great character in every way. And most of that comes from the fact that she's written and voiced so perfectly that she almost seems real. I will admit, there are problems with this movie. But I think that what is good about this movie outweighs all of the bad. The Secret World of Arrietty had flaws which is why its only Number 5 because all the movies after this I consider to be masterpieces.

Number 4
Princess Mononoke
I had seen this movie about three times before I saw it for Miyazaki Mania and my memory of it was that it was good, but not spectacular, so I went into this movie with decent expectations. Thank God I saw it again, because 5 minutes into this movie I had to eat my words. The first thing that caught me was the animation and this film surpasses Howl's Moving Castle in terms of being jaw-droppingly beautiful. The story itself is a great environmental commentary and the way the main character enters the story is incredibly well done. Something I also noticed with this movie that I hadn't noticed before is that the pacing is masterful. The way the story is told would be great on its own, but the movie puts in a perfect balance of action scenes and quiet scenes and none of them feel forced. The scenes lead into one another with such ease that afer a while you just forget about everyhing else around you and just direct everything toward what is going on on the screen. What else can I say, I love this movie.

Number 3
Kiki's Delivery Service
Earlier on this list I talked about how My Neighbours the Yamatas was a film about some of the smaller things and to a certain extent, so is Kiki's Delivery Service. The focus of this film is exactly where it should be - -on Kiki. And that is a very good thing – because Kiki is a fantastic main character. There is this charming optimism to her that can't help but put a smile on your face, but at the same time, when Kiki gets sad, she gets sad. Though its hard to see Kiki cry, since she's such a loveable character, there is something remarkably refreshing about a character who's willing to let her negative emotions out -- which is something I just don't see a lot of these days. You can probably tell what the concept of the movie is from the title, and I have to say that it is one of my favourite ideas for a Miyazaki movie – there is just so much creativity in there. Kiki's delivery service is the only high ranking film on this list that I've only seen once. The exception is come to think of it, the one directly after this. But this film left such an impact on me that I knew it was going to be high up on this list. What I didn't expect however, was how much I would love my number two pick.

Number 2
My Neighbour Totoro
This movie amazes me - because I went into this movie thinking it would just be a bunch of cutesy fun. What I got was a film filled to the brim with creativity, loveable characters, perfect pacing, and a sense of nostalgia that makes it so that throughout the entire film you feel like you are almost in a dream-like state. It's amazing how just about everything works in this movie and how I found myself completely immersed in a story about faith, family and the very essence of what childhood was. This isn't just one of my favourite Studio Ghibli films, it is one of my favourite films, period. But that's a different list and just like on that one, there's a film that's even higher than this one.

Number 1
Spirited Away
I'm sure a lot of you saw this coming, but yes, Spirited Away is my favourite Studio Ghibli film, as well as one of my favourite films of all time. This movie is art. From the animation to the character designs, to the dialogue, to the story, this film is a masterpiece, and I love every second of it. It amazes me how much this film endures. Out of all the films on this list, Spirited Away is the one I've seen the most and is the one I've known the longest. I remember being in grade 3 and loving it. But the nostalgia is only 1% of why I love his movie. The world they create in this movie is fantastic. The characters they create are fantastic and every one sticks out to me. Especially the main character, who will always have a place in my heart, because I know that I can be in a mood where the zoo could be set on fire and I wouldn't care, and just by hearing the main character's voice, every bad though in my head would disappear. She's that loveable. Not likeable, lovable. And that's a pretty good representation of the movie. I don't like everything in this movie, I love everything in this movie and throughout Miyazaki Mania, as I went through amazing film after amazing film, I always knew that Spirited Away was going to be number one. Because I can't think of anything to hate about his movies, and for me, that's a first.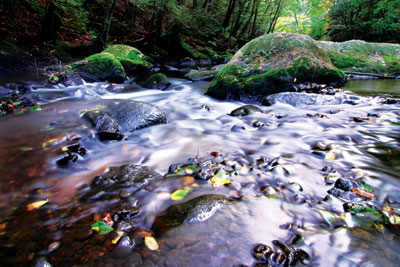 © Matt S., Glastonbury, CT