Paranormal Activity: A Review of the Terrifying Experience
October 18, 2009
Horror films these days either involve gore galore, or remakes. Paranormal Activity is different; it was a film made for a meek $11,000, and shot as if it was straight out of the home video drawer.
It's also been described as the most terrifying film ever made.
Before the film began, I caught a look at the people who walked out of the theater as the film finished. They all shared the same look of incredibility on how they managed to stay in the theater. This got me excited, seeing how I love scary movies yet not one filmed has managed to successfully "scare" me. I've seen pretty much everything: The Shining, The Blair Witch Project, The Sixth Sense. So seeing a film dubbed the scariest of all time was exciting.
It begins with a young couple, Mikah and Katie, moving into their new house in the nice San Diego suburbia. The actors don't seem to be acting; they're merely living their lives with everyday issues and problems and conversations. This brings the audience in on a whole new level, by saying that the paranormal activity that's about to occur can happen to absolutely anybody. Once they hear some strange noises, Mikah decides to document their lives with a video camera, much to Katie's displeasure, where every night he sets up the camera in their bedroom. This is the room where it all begins.
The film is scary for numerous reasons. The characters are everyday people, making them relevant to the audience. The "monster" haunting them is a demon, and the way the director reveals this demonic creature is utterly terrifying. This is a film that was not afraid to show what pure evil really and truly is. Essentially, you come face to face with a demon from hell who wants nothing more than to cause terror and chaos and fear.
Director Oren Peli embraces originality as he showcases the world of demons, evil, and how incapable we are at understanding it. There hasn't been another film like it.
Holding expectations too high will only leave you dissatisfied. The film draws you in, no doubt, but the fear it induces depends on the individual. Either way, this film is still a lot of fun and should be seen immediately.
Usually, I don't get scared in films. But after Paranormal Activity ended, I was shaking and almost speechless. This wasn't a ghost story. This was a dark, twisted story about the pure demonic evil that can be brought into anyone's life, awakened in the dead of night.
Where's my nightlight?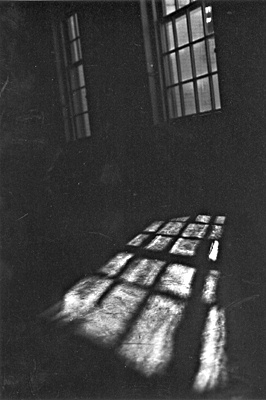 © Mary A., Fullerton, CA