Blood Diamond
October 8, 2009
Blood Diamond, in my opinion, is one of the greatest movies ever made. The story line
is amazing, with a little romance, adventure, action, and history. The first time I watched
this movie, I was a little taken aback by the violence, but I got really into the movie, after about
halfway. I would not recommend this movie for children because it is rated R for
strong language and violence.
Blood Diamond was released into theaters in 2006. It was co-produced and directed by
Edward Zwick, who also directed The Last Samurai, Defiance, and a bunch of other movies.
Blood Diamond was nominated for five Academy Awards including, Best Actor (Leonardo
DiCaprio) and Best Supporting Actor ( Djimon Hounsou).
It is set during the Sierra Leone Civil War in 1999. As you can tell from the title, this
movie is about diamonds. They are called "blood" diamonds or "conflict" diamonds
because the people that dig them up work in horrible camps and are often taken from
their families, and many of them are killed. The war is R.U.F. ( Revolutionary United Front)
against government forces There are a lot of bloody battles between the two foes, and villages often get and the villages often get caught in the crossfire.
Some of the main characters are Solomon Vandy ( Djimon Hounsou ), a Mende fishermen
who gets captured by the R.U.F. and is forced to work in mining camps. His son Dia Vandy
gets taken by the R.U.F. and is brainwashed into killing people.
Danny Archer ( Leonardo Dicaprio ) is a Rhodesian mercenary. He trades guns for
diamonds with Captain Zero of the R.U.F.. He then sells the diamonds to Van De Kaap
a big diamond company in the U.S. He has a short lived romance with Maddy Bowen
( Jennifer Connelly ). She is an American journalist writing an article on blood diamonds.
I really recommend you watch this movie, because it is so powerful and really enjoyable.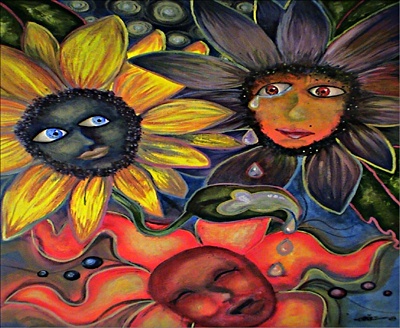 © Christine W., Davis, CA