Mamma Mia
October 5, 2009
Watch that Scene Streep's a Dancing Queen


Seen by more than 32 million people world wide and rated "Quite simply a phenomenon," Mamma Mia has been a major hit following its huge success at the box office. The mismatched non-singing, non-dancing cast, starring Meryl Streep as single mum Donna and her larger than life girlfriends (Julie Walters and Christine Baranski) work fantastically creating a frivolous, feel good film.

Set on the idyllic Greek island of Skopelos, the story centres around daughter, Sophie's wedding, where she uses the opportunity to secretly invite all three of her potential fathers played by ageing heartthrobs Colin Firth, Pierce Brosnan and Stellan Skarsgård.

The three bygone rock stars are swiftly hurried into the old goat shed by daughter Sophie. Colin Firth, disgruntled at the living conditions optimistically requests a trouser press just before Streep is catapulted through the ceiling landing awkwardly on a blow up bed in front of their eyes. After a moment of bewilderment she justly throws them out.

The hugely popular ABBA songs are thrown into the script in ridiculous musical fashion, sure to get fans of every age up and dancing. Meryl Streep steals the show after marching a village full of curly haired, authentic greek women down to a rickety wooden jetty for the rendition of Dancing Queen followed by a lively, full throttle jive before all fifty woman plunge into the sea.

The absurdity of the film makes it all the better! Donna and her sequined cronies are run ragged inbetween the unexpected male visitors and belting out various ABBA hits. The magic of the film radiates from Streep's fortitude as song after song she throws herself at the songs with immense power and effort. Her performance of the "Winner Takes It All" on the cliff top is overwhelming and recited in true theatrical style. Even Mr Cool, Pierce Brosnan's failed attempt at SOS is applaudable being so cringe worthy it's fantastic!

Kids will love the horde of audacious, cheeky lads rampaging down to the beach fully clad in flip flops and snorkels to cartwheel across the pier- a truly iconic moment in the film. The wedding scene holds an unexpected surprise, with Brosnan throwing a spanner in the works. The finale is a treat too with the three gals dressed up in sparkles and lycra to finish off the remaining ABBA hits which weren't lucky enough to be squashed into the storyline.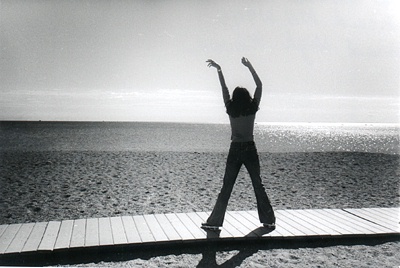 © Colleen F., Marblehead, MA