El Norte
March 12, 2019
The movie "El Norte" is about two hard working brother & sister that are immigrants trying to get to the U.S to get out of poverty.
As refugees from the global south move crossing the border, The both reveal that behind every immigrant is an entire history of people. two indigenous Guatemalans in three acts as they flee the military regime controlling their nation in the 1980's, travel through Mexico, and finally arrive in Los Angeles, California with its promise of wealth. Their father's death haunts the narrative, however, so does the American Dream, starting the moment Rosa's godmother reveals her stash of "Good Housekeeping" magazines. Upon arriving in Tijuana, coyotes sell the dream while Rosa and Enrique disembark their bus.

The first part takes place in a small rural Guatemalan village called San Pedro and shows the family, a group of Mayans. Arturo is a coffee picker and his wife a homemaker. Arturo explains to his son, Enrique.
Rosa & Enrique both thought it was the only plan to go on a journey to California and be okay, have a better life. On this big journey they had gone through a tunnel that would lead them a long path towards California,
When they get to Cali, Rosa and Enrique discover the difficulties of living in the U.S. without official documentation. The brother and sister team find work and a place to live and initially feel good about their decision. However, Rosa nearly is caught up in an immigration raid and must find a new job. Working as a domestic, she is puzzled when her employer shows her a washing machine. Enrique becomes a busboy and, as his English classes begin to improve his command of the language, he then gets promoted and moves up. Soon after, rosa had passed out at her job from the rats that bit her back at the tunnel they were traveling in, the rats gave her some type of sickness. Rosa begs for her co-worker to not take her to the hospital, but Rosa eventually gave in because of the pain.
She rested in the hospital, Rosa eventually passes away, After Rosa dies peacefully, Enrique is shown once again waiting with the other day-labor hopefuls in the parking lot, offering his services to a man looking for "strong arms", because he missed his job offer in Chicago because he wanted to make sure Rosa was okay in the hospital.

In my opinion I really enjoyed the movie, It was really interesting especially because some of my family came from mexico, also just like these two siblings and it really shows the life of immigrants and what there mindset is like towards money and how americans really live.

Wanting a better life is a good goal and people would do anything for it, but this risks to come with it can be very dangerous, that can sometimes put your life on the line, but they did it anyway to get a chance for a new life. You would do anything for a new change and would do anything for your family.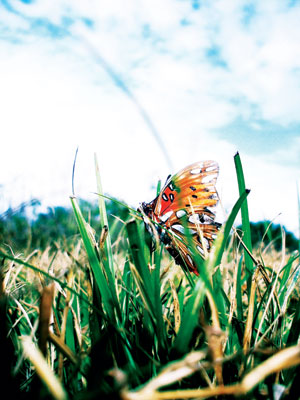 © Ashley B., North Port, FL