Gone with the Wind by Margaret Mitchell
April 19, 2018
"A man is not made for defeat. A man can be destroyed but not defeated." Like a old saying in the old man and the sea, the book gone with the wind by Margaret Mitchell explores not only one way to demonstrate the meaning of optimism and adamancy. It was definitely the perfect book to learn how to encounter different situations in lives with a peaceful and adament heart. The book traces the story of a woman named Scarlett who experienced all kinds of dilemma but survived positively with a bright heart. Ultimately, we learn that fortune favors the bold.
The story is set during the American Civil War and Reconstruction. The world is turbulent and full of unknowns which may include homelessness, death, illness, poverty, abandonment and so on. Our protagonist, Scarlett, experienced all. She lost Tara in the war as she wanted to avoid the danger and death. She lost her mother who was infected by cold when helping others and died because of weakness. She lost the glorious life in the past and had to plant by herself. She was abandoned by Rhett due to her attachment to Ashley. Indeed, she lost everything. However, life takes on the meaning that you give it. Scarlett actually gained everything. She reconstructed Tara with a group of her supporters; she saved people even if her parents could never come back; she said "tomorrow is another day" to herself as she was confident about future. No matter how hard the past is, you can always begin again. Scarlett completely demonstrates the essense of the sentence.
In the book, Scarlett not only regarded everything in the past as her burden, but in turn relied on her braveness to face the crucial reality and immortal hope about future, creating a new Tara and rewriting her life by her hands and also saving her family. She is always vigorous and composes her lengendary life with the compassion about life and tomorrow. On the contrary, Ashley as a man not only could not bring out the braveness facing truth but also had no means to get through difficulties, which made him live in the visional memory avoiding realities and driving down in the pain and loss. I think the comparison brings out the essense that the author wants to convey——Be like Scarlett, to strive, to seek, to find, but not to yield. Use smile to change the world. Don't let the world change your smile. Be optimistic and be adamant.
Life sucks. In my life, dilemma like monsters thwart me. When I was a pupil, my grandfather got cancer, which installed death in my mind at first. When I was a middle school student, I could not play basketball as my legs were terribly injuried, which set the meaning of illness in my mind. When I got into senior high school, my parents lost their jobs, which made me know what was poverty. Again, life sucks, but worth fighting for. I spent all my spare time with my grandfather and entertained him like drawing pictures with him, reading news for him as much as I could do. At that time, I saw the brightest smile of my grandfather in the darkest ambience; I also devote my time to core power training during my injury and practiced dribbling thousands of times. Surprisingly, my efforts brought a point guard in school's basketball team. No cross, no crown; In order to overcome poverty, my parents and I lived in a smaller house and encouraged each other everyday. I studied harder in the school and the only thing I was thinking was that only I could change my life. No one else could do it for me. How I thought and what I did brought me a more fullfilling life.
It seems that everything have gone with the wind. The Tara has gone with wind, the parents have gone with the wind, the peaceful life has gone with the wind, the love to Ashley has gone with the wind. We are all in the gutter, but some of us are looking at the stars. When we all look up at the same stars, yet we see such different things. We cry but also smile. We weaken but also strenthen. We struggle but also fight.
"Straighting up. Look, I saw blue sea and sails."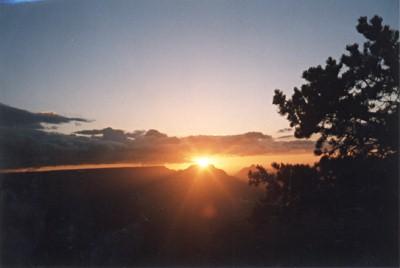 © Amanda T., Scituate, MA