The Perks of Being a Wallflower by Stephen Chbosky
April 13, 2018
"Things change. And friends leave. Life doesn't stop for anybody." This is just one of the lessons and themes in Stephen Chbosky's critically acclaimed teen-fiction novel, The Perks of Being a Wallflower.
This heartbreaking story follows a high school freshman named Charlie, who loses his innocent self right before readers' eyes, and experiences the new things one can only experience in high school. The book is full of happy moments and sad moments, and does not for one second lack emotion and empathy for its main character Charlie, who has been through a lot of hardships. The happy moments take place when we meet Charlie's new senior friends, who introduce him to music, drugs, alchohol,and relationships. They give him a life full of exciting memories.

The most memorable friend of Charlie's and my personal favorite is Patrick, who is an openly gay kid with a good sense of humor. He is always trying to make his friends laugh and have a good time. Patrick is the first person Charlie meets, the second being Sam, Patrick's step sister. Sam and Charlie hit it off immediately, and Charlie soon finds himself falling in love with her and wondering how she does not see herself as he sees her. Charlie thinks Sam is the most beautiful person in the world, however she sees her flaws and rough past as something to be ashamed of. They grow very close and even when Charlie begins seeing one of Sam's best friends, he still remains in love with her. She warns him not to like her, because they will never be anything more than friends due to her older boyfriend. Regardless of Sam's remarks, they understand each other and open up to one another. The honesty in this story is a beautiful thing to read since both of them have been mistreated by society and the people around them in some way. Sam was hazed by the upperclassmen when she was a freshman and her reputation was very negative. Charlie on the other hand is seen as weird and different by those around him. This changes once he meets his new friends, though. Charlie begins to flourish and find true happiness.

Not only is Perks full of new friendships and experiences, but it is also highly relatable and any teenager currently in high school will be able to identify with at least one of the characters. Charlie deals with being thrust into a new world with things he's never seen before. Patrick deals with his sexuality and the backlash from his boyfriend, who is a star football player and wants to keep their relationship a secret. Sam deals with her insecurities and finding self worth. She is also working very hard to get into her dream school which is Penn State. She struggles with her grades, which many high schoolers can relate to. The main things that tie them all together is that they are trying to find their purpose in the world as young teens.

A valuable lesson in this story is that you never know what is going on in someone's life behind closed doors. Everyone has things that they face in private and do not share openly with the world. This is true for Brad, Patrick's lover. Brad is a football player and known by everyone as straight and a ladies man. He is secretly gay for Patrick, and the only people who know are Patrick's friends. One day Brad and Patrick are at Brad's house with no parents home. Suddenly Brad's father comes home and catches them together. This is particulary bad for Brad, who gets beat up by his father while Patrick tries to pull him off. Eventually the fight ends and Patrick leaves, and that is the end of the relationship. This is a heartbreaking part of the story because as a reader we know that Patrick loved Brad. The situation gets worse when Brad initiates a fight by calling Patrick a derrogatory name at school. Brad only did it to look good in front of the lunchroom, but it killed Patrick. As a reader who has already built a love for Patrick, it hurt me to read this part of the story.

While a main part of the book is Charlie's new found friendships, another equally large part is his past and his family issues. Charlie comes from a working class family and has a sister who is a senior. She is leader of the environmental club. He also has a brother in college who is a star football player. Both of Charlie's siblings have an established purpose and have a group of friends and something that they are good at. Charlie does feel compared to them at times and feels as though he will never be as good as them. This bothers him and is just one of the many hardships Charlie faces.

Charlie's past comes in to play when he reveals his best friend Michael killed himself in the summer, and his Aunt Helen had previously molested him. As Charlie experiences new things with his friends and loses his innocent interior, he realizes what happened to him and the awful things his Aunt Helen did. The reader figures this out the same time Charlie does.This leads Charlie's family to admit him to the hospital after having a mental breakdown. Charlie is constantly haunted by his past, whether it be his friend killing himself, or his Aunt Helen's death, and what she did to him as a child.

The most heart-wrenching part of the story, though is the end when Charlie says goodbye to his friends, who have to move on and go to college. As a reader I did not want them to leave because I knew how this would affect Charlie and did not want the happy times of the book to end.They were the reason Charlie smiled, they gave him something to look forward to in life. Them leaving took a toll on him and worsened his mental state. Charlie formed strong bonds with these people and he will soon be left alone in high school without them. While this is a sad moment, a silver lining is that Sam and Charlie finally end up together after a long wait for Sam to realize her love for Charlie.

Overall, this book will have you laughing, crying, and reflecting on your own high school experiences in parallel to Charlie's. The Perks of Being a Wallflower is full of life lessons that a teen can relate to. They are not overally wise, or complicated. They speak to teenagers in high school who are strugling to find their place or fit in. I highly recommend reading it because of how relatable it is, the lovable and complex characters, and the overall heartbreaking plot.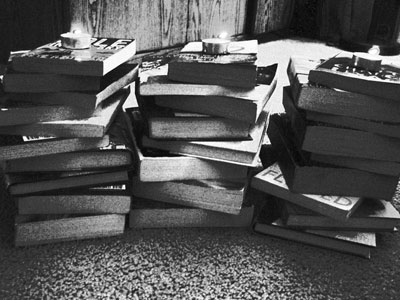 © Alexis R., Clarkdale, AZ