Fight Club by Chuck Palahniuk
April 10, 2018
Synopsis (From Goodreads):
Every weekend, in basements and parking lots across the country, young men with good white-collar jobs and absent fathers take off their shoes and shirts and fight each other barehanded for as long as they have to. Then they go back to those jobs with blackened eyes and loosened teeth and the sense that they can handle anything. Fight Club is the invention of Tyler Durden, projectionist, waiter and dark, anarchic genius. And it's only the beginning of his plans for revenge on a world where cancer support groups have the corner on human warmth.

Plot:
Taking place in countless churches and community centers across the country are support groups. Grouping of people who are all going through the same thing, gathered in the room between 7pm to 8pm, to talk about their experiences, and rely on others to help them through the next week. He finds comfort in these support groups, and that even though he does not suffer from what these groups are for, he does suffer from insomnia, and finds these groups to be the only time he is living. That is before she started showing up: Marla Singer. He sees her at his tuberculosis support group on Friday, his melanoma round table on Wednesdays, and even worst was seeing her big eyes staring at him during Monday night's Firm Believers leukemia rap group. Unable to sit still with this faker next to him, they split up the days, each rotating through the days so not to run into each other again. His life was pretty mediocre, living days in, day out, saving money up for furniture, as if that could fulfill his life. It was on the beach that truly changed his life, the day he met Tyler Durden, but it felt like a lot longer: "Tyler had been around a long time before we met" (32). Tyler got his kicks as a waiter, peeing in the soup before serving it, as well as cutting movie clips. Taking milliseconds of pornography and splices it into movies, so that just before Mufassa tells Simba about how everything the light touches is theirs, the kids get to see a flash of nudity. Tyler was everything he wanted to be: a guy who did not care about the rules, but broke them for fun, energetic, and one not to hold back. When a gas leak blew up his apparent he had no choice but to move in with Tyler into this crummy house in the middle of nowhere. It was there and in the basement of bars where life began. At the house they made soap, bars and bars of soap to sell to the world. At the bars is where they group Fight Club took place. White-collared men (just like themselves), who father never payed attention to them, and who needed pain to feel like they were truly living. They stuck up rules of no shirt or shoes, only two per fight, and the fight last as long as the two fighters wanted to. But the most important rule was the first: "The first rule about fight club is you don't talk about fight club" (cover). The only issue is Tyler and Marla. Listening to them go at it all night, then being the messenger from Tyler to Marla, he felt he was losing Tyler to Marla. With things getting more serious, as fight clubs began to sweet the nation, Tyler was not willing to give it up, the only question is will he follow Tyler down this dark path, or try and stop him.

Thought:
Normally you can guess what happens in the book, and find a whole category of other books similar to it, but not with Chuck Palahniuk's Fight Club. Described using the words of astonishing, irresistible and brilliant, Palahunick's story is one in a million. Gripping these are men that you see every day in your life: the ones with the dead end job, and so much resentment build up in their life, and literally wants to fight it out. The movie came out in October 1999 labeled as a drama, became a cult classic, even though it had a low box-office turnout. The story comes from the point of view of our unnamed guy, as he tells us about him and his friend Tyler Durden. Acting nothing alike, Tyler takes a liking to our guy, and with him this whole mess of fight club, breaking the law, and getting out of the daily life began. With good writing and a moving plot, Palahunick's book deserves a lot more than it got, as it kept you captivated by the intense plot. With a major twist near the end, that will blow your mind, this story makes it worthy of a read, and worthy to be named a cult classic.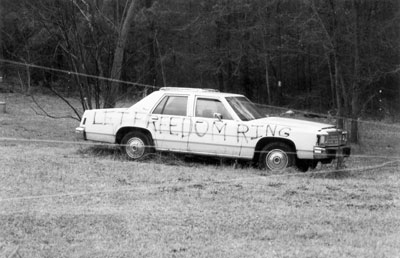 © Shanon G., Elgin, SC