The Moon and Sixpence by W. Somerset Maugham
April 9, 2018
With a happy family, two children, and a decent job, Strickland the main protagonist in Maugham's novel The Moon and Sixpence, leaves this all behind to chase after his dream of being an artist. "He must be crazy, I mean, I don't get it. Why does he have to leave his family, his wife and his children behind? He's crazy." Susan sits in her mother's car, talking about the book, and her mother obviously doesn't like it. "Well, he just wants to chase after his dream…everyone has the right to choose his own life." Susan tries to dispute it but agrees with it inside her heart. "Yes, he is crazy."

Susan peers outside the window and fixes her eyes on the moon. It is bright and round and contrasts perfectly with the dark sky. It travels with their moving car, and at times is covered by the buildings along the road. She sits up to see the moon behind them. After a while, she falls back into her seat. Her head feels heavy. Maybe it is because of the voice inside is asking her question after question. "Are you making your own choices? Or are you just following other people?" "Do you follow your dream?" Susan feels dizzy, mom takes a sharp turn, the traffic light turns red and Susan lifts her head.. Then she notices the round and bright moon again. She leans her head and presses her cheek on the car's window. It is chilled but calming. Susan remembers her dream.
Susan's dream was once to create a world and making everything colorful inside. Susan started her art by drawing and sketching on her mother's bed sheets. She was dazed by the power of the twelve crayons, as they turned the white dull bed sheet into a fairy tale without much effort, except that her mother wasn't so excited. Later, Susan was sent to a drawing class, and it was magical. The teacher Mrs. Tang was a soft and beautiful woman. She smiled every time Susan lifted her head up from her work. Every Saturday afternoon was a journey to the legends, but Susan cannot remember the excitement so vividly now.

Susan sighs lightly. "What's the matter?" Mom heard it. "Nothing, mom…can we visit Mrs. Tang this weekend maybe?" Susan asked. "I haven't seen her for a while."

The car stops. They arrive home.

Susan walks upstairs to her bedroom. "Finish your SAT practice, and we can visit Mrs. Tang in the afternoon." She hears her mother say from downstairs.

Susan draws the curtain across the window when she sees the moon yet again. It is now half-hidden behind the buildings. It shines as usual, though not as bright. The buildings are grey and black- tall, square and normal.
Susan is used to them.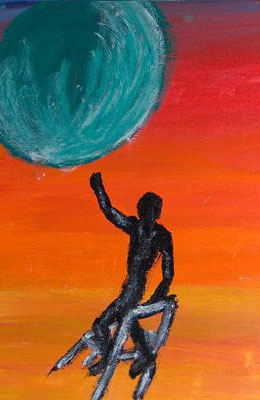 © Maegan F., Harrisburg, NC