Their Eyes Were Watching God by Zora Neale Hurston
MAG
April 9, 2018
A young woman, Janie Mae Crawford, learns of life and love through three marriages.
Their Eyes Were Watching God might be hard to read at first. Like our English teacher said, it's like diving into a pool – at first, the water is petrifyingly cold. But as you resurface and swim around a little, you get used to it. The book is widely credited for capturing African-American vernacular in the South at the time, following slavery, when many still worked in the fields and through poverty. The issue of racism isn't what wholly defines Janie's story, but it does appear around the edges, such as in the all-black town of Eatonville, where Hurston grew up herself, which touches on the implications of submission and power.
The novel is already cemented in American canon as a resounding classic, but what makes the story immediately timeless is its accessibility. It's a simple story following a woman who lives through three marriages: the first loveless, the second abusive, and the third with her soul mate. Janie defies societal conventions, town gossip, and toward the end, natural disasters, in the quiet rebellion of being herself. There are countless literary layers to peel away – the role of religion, gender roles, judgment, and nature mirroring Janie's life. Janie's story remarks similarly, but not completely, on the unforgettable authoress herself, who,
after the rediscovery of her works by Alice Walker, was recognized years after her death with a gravestone marked "a genius of the South."
The writing is also beautiful. Phrases and sentences still echo prophetically in my mind – and I never remember quotes. Hurston's voice is fateful, storytelling with an ease that will stand the test of time. The book will be life-changing for some, especially those who yearn to find the written voices of women, or women of color. And in the end, the book is just loving, in the best way books are, the way they dive into the self and embrace it with both arms. Here, its eyes are up at God.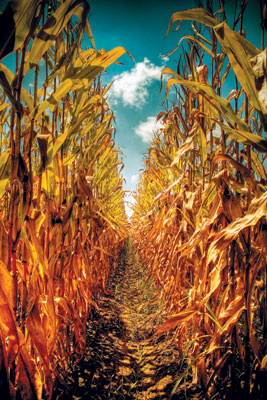 © Taylor M., Pelham, AL