A Great and Terrible Beauty by Libba Bray
January 9, 2018
Synopsis (from Goodreads):
A Victorian boarding school story, a Gothic mansion mystery, a gossipy romp about a clique of girlfriends, and a dark other-worldly fantasy—jumble them all together and you have this complicated and unusual first novel.
Sixteen-year-old Gemma has had an unconventional upbringing in India, until the day she foresees her mother's death in a black, swirling vision that turns out to be true. Sent back to England, she is enrolled at Spence, a girls' academy with a mysterious burned-out East Wing. There Gemma is snubbed by powerful Felicity, beautiful Pippa, and even her own dumpy roommate Ann, until she blackmails herself and Ann into the treacherous clique. Gemma is distressed to find that she has been followed from India by Kartik, a beautiful young man who warns her to fight off the visions. Nevertheless, they continue, and one night she is led by a child-spirit to find a diary that reveals the secrets of a mystical Order. The clique soon finds a way to accompany Gemma to the other-world realms of her visions "for a bit of fun" and to taste the power they will never have as Victorian wives, but they discover that the delights of the realms are overwhelmed by a menace they cannot control. Gemma is left with the knowledge that her role as the link between worlds leaves her with a mission to seek out the "others" and rebuild the Order.

Plot:
Gemma was the queen of begging. At age sixteen, she been asking her mother for years to let her leave India for England. With her unconventional upbringing, Gemma wanted to strict schools, learning how to be a proper Victorian wife. What Gemma never saw coming that her wish would be granted, but on her mother's life. Watching her mother kill herself instead of being taken, Gemma finds herself on the boat to her grandmother's house. From there to Spence Academy, the toughest boarding school in all of England, motto is: Grace, Charm and Beauty. With the story that her mother died of cholera, Gemma finds herself the target of popular group Felicity, Pippa, Elizabeth and Cecily. With her first friend being her roommate, Ann the scholarship orphan. In the woods, Gemma finds the diary of Mary Dowd, a girl who attend Spence with her best friend Sarah almost twenty years ago. Gemma finally makes her break when she catches Felicity hugging a gypsy boy in Spence's woods, and uses that to blackmail her and Ann's way into Felicity core groups. With the three of them, plus Pippa, they became The Order, a group of four Spence ladies who are here to have fun. Reading Mary's diary out loud, the began trying to gain access to the realm. Soon the girls discover that Gemma is the one who holds the magic that can get them to the realm, where all their dreams come true. For Ann was beauty, for Felicity power, Pippa true love, and for Gemma her mother. But Kartik, the boy that followed her from India, warned her to stop, the realm was dangerous and she did not know what she was doing. But pressured by her friends and their wishes, Gemma finds herself going deeper and darker into her versions, as she discovers the truth about her mother, herself and the one who is after her: Circe.

Thoughts:
Libba Bray wrote this novel with as gothic mystery, a handsome stalker, Victorian boarding school and the preppy girl clique. Ann was the girl, who has nothing and going to have nothing, desperate to become beautiful, as if the shinier her hair could be, the brighter the future could be for her. Pippa had the opposite problem, where she was beautiful beyond belief, her family was trying to marry her off fast, that man that might win is older than her father. All Pippa wants is love, true love, someone to listen to her, and not care about what Spence taught her, only to love her as she is. Felicity, the daughter of a irresponsible mother, wants power. She wants people to fear her, obey her, and for men to never try to control her. Gemma was amount these girls, and surprisingly less interesting. Bray made Gemma a sweet girl who is grieving about her mother, not a fan of Spence, and was willing to do anything to please her friends. The addition of Mary and Sarah's story was good, as Bray gives you backstory of these two, and then near the end made them relevant to Gemma's life. The real question is does this deserve a sequel? And not just a sequel, but a trilogy? Bray wrote enough in this novel, but still leaves plot holes that would be covered in the other books, but Bray also did not leave anything to make you want to read the next book either. Gemma story continues on, but not everyone in her group gets to stay in the life of the living, but that does not mean they do not get their happily ever after.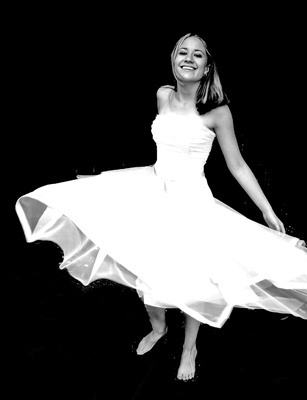 © Kara S., Walnut Creek, CA