The You I've Never Known by Ellen Hopkins
November 27, 2017
Meet Ariel Pearson: A girl who has seen more of the United States in seventeen years than most people do in an entire lifetime. However, Ariel would trade it all for a real home. Most of The You I've Never Known is told from her perspective, with a few chapters sprinkled in from the journal of a girl named Maya. At first, Ariel and Maya don't seem to have much in common. The main consistency is that they are both young girls with strange, occasionally abusive parents. But the similarities end there.

Ariel travels around the country with her father, staying with whatever woman will take them in for a few months. Ariel's mother moved out with her girlfriend when Ariel was very young, and her father has never gotten over it. When the book starts, Ariel and her father are living in a small town in California. They've lived in this house for over a year, a personal record for Ariel, and she has made two close friends, Monica and Syrah, one of whom may be more than just a friend. Ariel is feeling secure and hoping she will be able to finish her junior year in Sonora, which has only just begun. However, all of Ariel's security goes out the window when Gabe, the nephew of her father's girlfriend, comes to town. She is attracted to both Monica and Gabe, and the decision seems impossible to make.
Maya, on the other hand, lives with her mother, who has been sucked into a strange church. Her father left years ago and has since passed away. Maya cannot wait to escape her mother's house and finds the solution in Jason, an older man training at the nearby military base. The two feel attracted to each other and before long, get married. Maya has a baby, whom she names Casey. She talks about being lonely at the base but truly loving Casey when the journal abruptly ends.

The You I've Never Known kept me reading late into the night, wondering who Ariel would choose and what happened to Maya. With each page I became more and more engrossed until the biggest chapter of the entire book, when the stories of both girls collided. It was fantastic and awful, all at once. It was hard to believe that, in the end, it was a fictitious story. It is suspenseful and gripping, and completely sucks you in.

The actual story was moving and powerful. But the only part that ever made me cry was the author's note in the back of the book. It was less than half a page but it broke my heart in two. It took my thoughts away. And it captured my breath. This book truly makes you grateful for your life and especially your family. I have two parents who are loving and present in my life, which I should appreciate more but I don't. This book made me step back and take a long, hard look at my life. The You I've Never Known is one of those special books that doesn't end when you turn the last page.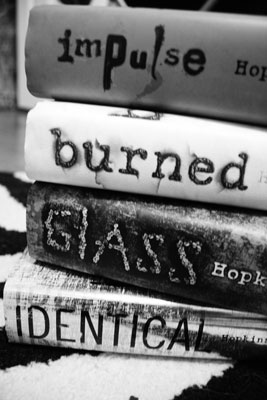 © Bria B.