The Princess Academy by Shannon Hale
November 21, 2017
As the first book in a series, The Princess Academy by Shannon Hale, is a fantasy fiction book that appeals to anyone who likes adventure, romance, or drama books. Conveying many different themes such as family and education, The Princess Academy puts readers through many exciting scenes. Hale certainly hooks the reader with her writing throughout the book.

In the beginning, readers are introduced to Miri. As the main character, her life begins in a village above the mountains, where people work in the quarry, mining for linder. But Miri, along with the other village girls, gets sent to an academy meant to turn them into suitable brides for the prince. Along her journey as a student, Miri encounters many situations where she relies on others and others rely on her. This repetition creates morals as readers learn different things each time.

The motifs in The Princess Academy all revolve around Miri and those close to her. The themes, like friendship and memory, are portrayed to the reader, while keeping them interested as well. Hale teaches the reader about the importance family and friendship is through Miri being taken away from her home. Another common motif is how memory is crucial to you no matter where you are and Miri shows this as she uses quarry speech repetitively. Miri experiences other changes that help bring forth these themes, as Hale uses many modes of writing to incorporate excitement for the reader.

Shannon Hale writes in a style that is simple to read but complex in the word of literature. She writes with repetition, constantly referring back to the quarry and the villagers. Hale also uses a lot of descriptive language for flashbacks that depict Miri's memories. " A small butterfly with pale wings flitted past her nose, pausing as if at first believing she were a flower. Peder plucked a wing-shaped leaf, sucked it against his lips, and blew it away. It spun and flew, dipping and rising on a breeze, and seemed to be chasing after the butterfly until it touched the surface of the stream and was pulled down and away." Hale describes every scene with vivid words that leave the reader in awe and keeps the imagination flowing. Hale is able to express in every detail possible how complex complicated the setting actually was, whether it was a painting of a mansion or the village.

The Princess Academy is a book that will draw in its readers and make them want to read more of the series. Shannon Hale writes in a way that entertains but also informs on simple life lessons. It is able to captivate readers easily, drawing attention as to what might happen next. Although the title might sound lame, do not underestimate the contents inside.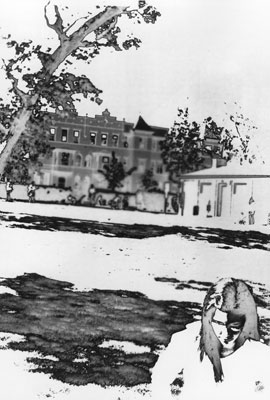 © Simon E., Bethesda, MD